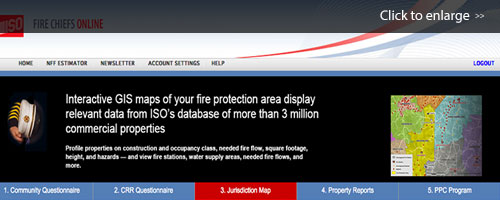 ISO is pleased to announce that we've updated Fire Chiefs Online — our free secured website for fire chiefs — with enhanced mapping and community outreach capabilities. The new robust GIS maps provide even more community fire protection information. All buildings are color-coded by their needed fire flow, based on their gpm category. Users can zoom in to an area and then simply click on a needed fire flow location to view the specific commercial property information for that location.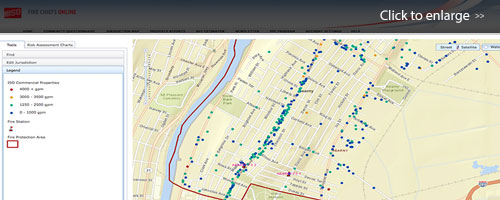 Users can also use the risk assessment charts to display an overall summary of the building inventory by construction class, needed fire flow, and building height. If you don't see a building in your area, there's no need to worry. We've provided a needed fire flow estimator tool that will assist you in determining the flow needed. Provide ISO with the data, and we'll add it to your community's GIS map. You can also easily update improvements and changes in your community's fire protection using the Edit Jurisdiction tool.
Also, be sure to view our Featured Fire Chief on the home page, which we'll change every quarter. This quarter, we're spotlighting Fire Chief Jack K. McElfish of Sandy Springs, Georgia. You'll also find easy access to information regarding ISO's Public Protection Classification (PPC®) program and an archive of our newsletters.

Featured Fire Chief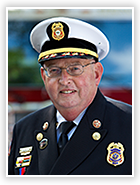 In 2006, the City of Sandy Springs Fire/Rescue Department was formed, and we had prepared for five years for this important ISO (FSRS) evaluation, which occurred in 2011. It was important to our elected officials and our community to try to receive the best Public Protection Classifications possible.
Fire Chief Jack K. McElfish-Sandy Springs, Georgia
If you already use Fire Chiefs Online, go to the login page to experience all the enhancements. Fire chiefs not already registered may register here to get started. Once you're registered, we'll ask you annually to update your basic community information. A chief may also designate six other command staff to have access to the website and designate which features an individual can access.
We've also provided a user guide, which you can access by clicking "Help" in the menu. If you need assistance or have questions, please call our customer service staff at 1-800-444-4554.