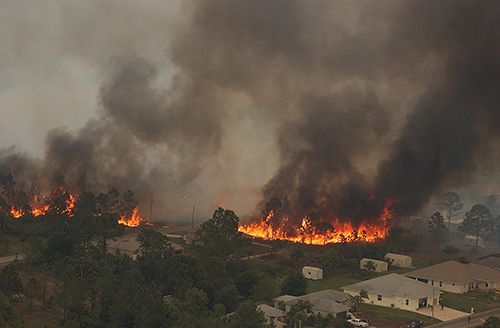 Part of the Florida Forest Service's mission is "to protect Florida and its people from the dangers of wildland fire," and that guides many of our outreach objectives. One of the highest priorities of those objectives is the preparedness and education of residents regarding wildfire in the wildland-urban interface (WUI).
Our public education programs range from preschool to adult, covering everything from general safety education to detailed land management and emergency response planning. We value putting useful knowledge in the hands of residents and highly encourage interaction with local and county emergency operations, even if just informationally.
Often, the most responsible thing an individual can do in the face of a wildfire is to evacuate. It's the "when" and "where to" that often bewilder residents. That's where Ready, Set, Go! (RSG!) comes in—to address a long-standing gap in emergency response.
The RSG! program is a joint creation of the International Association of Fire Chiefs (IAFC) and the U.S. Forest Service. It's based on actual knowledge of what it means to live with wildfire in the face of such an event. Other programs, including the National Fire Protection Association's (NFPA) Firewise USA® program and the U.S. Forest Service's Fire Adapted Communities®, focus on defensible space and understanding the importance of wildfires as a natural part of a community. RSG! captures and promotes the truth that organizations and residents need to be partners in the event of wildfire.
Just as wildland firefighters know how to engage wildland fires, individuals and community groups can navigate these events successfully, too. Knowing what to do and when to do it plays a very large role in incident management decision making, from initial report to post-event wrap-up. The most important thing wildland fire responders do is to employ wisdom-based thinking. Learning from past lessons enables more strategic planning for the future.
It's important to be proactive. Firefighters and residents must plan and practice with the knowledge that you can't just hope for the best, you also have to prepare for the worst. You need to remember that wildfires behave differently throughout the country, even the world. The same could be said for any natural disaster. This process applies seamlessly to community response. In fact, RSG! functions well as part of larger all-hazard emergency response protocols, especially for guiding community populations. The program relies on knowing what gets the job done, regardless of locality and disaster, and putting personal responsibility into action.
The practice described in RSG! works similarly to a couple of old adages: "What one practices, one will do" and "Repetition is the mother of skill." Practice and repetition are vital in resident response to wildfire events. When asked where to evacuate in a wildfire, the answer is "away," because a wildfire's path is nowhere near as predictable as the path of a hurricane, which itself isn't an entirely predictable storm event. Employing the program as a guide allows for molding to an area's unique natural disasters as well as local effects on fire behavior.
The transition into action makes all the difference with RSG! In Florida, we often refer to two seasons: hurricane and wildfire. Annually, we go from one to the other, as the events in 2017 and 2018 demonstrated. Drought followed by wildfire followed by hurricane has reshaped collective thinking on what disaster response means. In 1992, Hurricane Andrew illustrated that wise practices are needed as standard protocol for resident safety—and we adjusted. Recommendations became requirements as we took advantage of our peninsular state to begin moving residents out of disaster-prone areas ahead of events. These changes did not take place overnight, but they did happen and are now very well practiced.
Some feedback has indicated the program remains vague in places, and more guidance is needed to enhance its functionality. As technology, information, and needs change, it's important to grow and improve—and RSG! will continue to strengthen and advance. Whether used in fully developed communities as support for structures or implemented in the WUI, RSG! has proven that its inherent flexibility promotes informed decision making by residents, regardless of location, environment, or natural disaster.
Melinda A. Avni is a forester and wildfire mitigation specialist with the Florida Forest Service, Florida Department of Agriculture and Consumer Services.