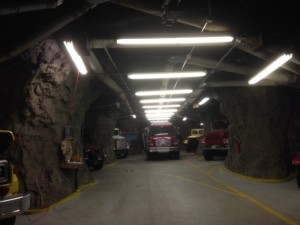 The ISO Community Hazard Mitigation staff visits a lot of fire departments in our quest to evaluate the quality of public fire protection for our Public Protection Classification (PPC®) program. As an ISO field analyst, I've seen many of them. Although no two departments are exactly alike, they usually have similar physical characteristics, such as basic brick truck garages with accommodations and offices for firefighters. One major exception is the fire department in Creede, Colorado.
Creede is an old mining town in the San Juan Mountains with a population of less than 500. In the early 1980s, the volunteer fire department didn't have the funds to purchase land and build a firehouse. What did they do? They built one of the most unusual fire departments in the United States — underground!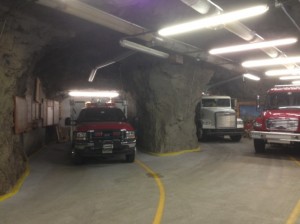 A local mining company donated the explosives, the community pitched in with labor, the county contributed equipment, and a new facility was built into a mountain — all at no cost to the fire department. "It's a great example of what good people can do when they put their hearts and minds to it," said Chief Robert Hosselkus.
The PPC field staff visits and grades thousands of fire departments each year, giving insurers credible data to help them develop premiums that fairly reflect the risk in a community. We also provide an objective countrywide standard that helps fire departments plan and budget for facilities, equipment, and training. In the course of our surveys, we see some interesting things up here in the mountains, but Creede was definitely one of the coolest stations ever.
When I heard the history behind the building of the station, it made the story that much more fascinating. The fire department is open to the public on some days and features vintage fire trucks in pristine condition. Next to the fire house is a mining museum that's also set into the side of the mountain, making Creede a great tourist spot for travelers passing through. While ISO has data from virtually every fire department in the United States, it's safe to say that Creede is unique.