INDUSTRY EXPERTS SPEAK OUT
Fire-Rescue International Highlights ISO Expertise in Fire Suppression and Community Fire Protection
Every August, more than 14,000 fire and emergency service leaders gather for a week of learning and collaboration at FRI. At this year's conference, held in Chicago from August 24 to 28, ISO had the privilege of leading two conference sessions onThe new ISO Fire Suppression Rating Schedule: What you need to know? and What ISO can do for you: Understanding the tools and resources of ISO.
Butch Cobb and Skip Gibson, ISO manager of Community Hazard Mitigation, spoke at the first session. They discussed the revisions to ISO's Fire Suppression Rating Schedule (FSRS) — a manual containing the criteria ISO uses in reviewing the firefighting capabilities of individual communities. The schedule measures the major elements of a community's fire-suppression system and develops a numerical grading, a Public Protection Classification (PPC®), which recognizes improved levels of fire protection. Key stakeholder organizations have provided valuable input, and 3,000 communities across the country are now in the process of beta testing the proposed revisions to ensure reliability and consistent application. Cobb and Gibson reviewed the major revisions, with emphasis on provisions for evaluating firefighter training, computer-aided dispatch, standard operating procedures, deployment analysis, automatic aid, community risk reduction, and recognition of sprinkler systems. ISO will analyze the feedback from the testing in the upcoming months.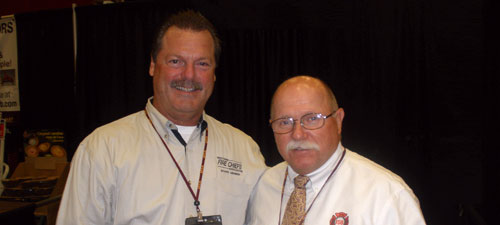 Western Fire Chiefs Association President and Assistant Fire Chief of Snohomish Fire District 1 in Everett, Wash., Gary Aleshire and ISO National Director, Community Hazard Mitigation, Robert "Butch" Cobb meet in front of the ISO booth at the AZ Fire Chiefs Association Conference held in the summer.
Metropolitan Fire Chiefs Association Annual Conference Brings Together ISO, the NFPA, and the USFA
This past May, ISO had the opportunity to participate with the National Fire Protection Association (NFPA) and the U.S. Fire Administration (USFA) at the Metropolitan Fire Chiefs Association Annual Conference in Memphis, Tenn. More than 100 fire chiefs from the United States, Canada, the Netherlands, and the United Kingdom attended the conference.
Our very own Robert "Butch" Cobb, national director of Community Hazard Mitigation for ISO, was one of three featured speakers on May 14. The discussion addressed the state of fire protection in the United States. Cobb spoke about the progress of ISO's initiative to update and revise the FSRS. He discussed with the chiefs how input from the International Association of Fire Chiefs (IAFC) and other key stakeholders has greatly assisted the update project to reflect current trends in fire protection.
U.S. Fire Administrator Kevin Cochran gave an informative update on the USFA.
NFPA President and CEO Jim Shannon spoke about the current initiatives under way at NFPA.