As the country and the world take a few moments this month to remember the anniversary of September 11, ISO would like to acknowledge the thousands of civilians and hundreds of emergency responders (firefighters, paramedics, and others) who lost their lives on that tragic day. Even now, nine years later, countless people still experience the aftermath of the event.
ISO prides itself on its many strong relationships with the fire service. We asked four fire chiefs who served on 9/11 in New York City, at the Pentagon, and in Shanksville, Pennsylvania, to share their recollections with us. We'd like to share them with you.
John J. Salka, Jr., Battalion Chief, FDNY
It has been nine years since September 11, 2001, and much has changed in our world. For those of us with the FDNY, many things have changed and many things have stayed the same. The FDNY was shaken to its foundation on that horrific day, and yet we stand tall today. We lost a generation of firefighters and officers on 9/11, and the work that followed there was difficult and challenging. We have regrouped and retrained. We have broken in a new generation of firefighters who will staff our engines and protect a grateful city for decades to come.

Battalion Chief John Salka, FDNY 18th Battalion Commander, and Deputy Chief Robert "Butch" Cobb (retired), Jersey City Fire Department and ISO National Director, Community Hazard Mitigation, attended a solemn ceremony at the FDNY Firefighter's Memorial on Riverside Drive in New York City. They met to honor all the heroes lost on that tragic day — including 343 FDNY members.
On this day, however, we will stop again to honor and remember our brothers — men who were fathers, husbands, brothers, sons, and friends. They were all New York City firefighters that day, and they answered the call. Some were at their first fire, and others had been riding on fire trucks for decades, but they all answered their last alarm on September 11, 2001. Take a moment to be thankful for all that you have and to remember those who gave all they had.
Michael L. Smith, Deputy Fire Chief (retired), District of Columbia Fire & EMS Department
September 11, 2001, was my last day of vacation. I was home fiddling around in my shop when I got a phone call from the on-duty deputy chief/EMS of the District of Columbia Fire Department (DCFD). He told me to turn on the television. When I saw the images from New York City, I put on my uniform and went to work. Upon my arrival in D.C., the scene was surreal. The city had shut down all public transportation. They had sent home government workers, so thousands of people were walking out of the city.
The fire chief gave me the assignment of logistics section chief for the event. That lasted until approximately 11:00 a.m. when he sent me to the Pentagon. I performed a 360-degree size-up where I determined that because of the concrete construction of the building, it wouldn't face the problems experienced in New York City. I assumed command of all D.C. units — approximately 150 firefighters and officers. I saw my firefighters with soot-stained faces, indicating they hadn't been wearing an SCBA (self-contained breathing apparatus) for a while. I asked the Arlington County fire chief if he knew the assignments of my units, and he stated that he didn't know. I requested subsequent alarms throughout the day, allowing the units to operate for approximately three-hour intervals. I requested sufficient command chiefs to control the resources under my command. DCFD eventually would dispatch more than 600 firefighters and officers to combat the fire.
I went home that night but returned to the Pentagon the next day for my regular scheduled shift. My main concern was for all the friends in the FDNY, Jersey City, and Philadelphia who were involved in combating the disasters and if they were all right. It would take several days to account for their safety and to hear of the many friends who didn't make it. We extinguished the last of the fire approximately at 1100 hours on the 12th. All D.C. units then returned to service by late afternoon.
Terry Shaffer, Fire Chief, Shanksville Volunteer Fire Department
When asked about my memories of September 11, 2001, they are still as vivid as if they happened last week. What has happened since then has started to fade, but I don't believe anyone could wipe away the events of that particular day from one's memory.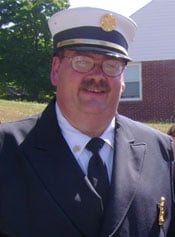 Shanksville Chief Terry Shaffer
It was a clear, beautiful day, and then the terror unleashed in New York and in Arlington. How anyone in my department or any of the surrounding departments that assisted that day could have prepared for what happened was beyond me. However, at 10:03 a.m., when Flight 93 impacted the ground in Stonycreek Township, those departments responded and did a remarkable job with the situation they faced. We had all responded to rescue; however, that would not be the case. It was a total recovery operation. I remember getting on scene some 40 minutes after the impact and feeling the same way. What could we do to help these people? But one look at my assistant chief's face told the story. That blank stare said it all — there were no survivors.
We would spend the next three weeks helping in whatever way we could to complete the investigation that the Federal Bureau of Investigation set out to do — clearing trees, marking debris, and gathering personal effects and remains. It seemed to be a never-ending task but one that we had to complete. Our coroner here was able to identify all of the crew and passengers by DNA or dental records.
The past nine years have gone by quickly, and on this September 11 we honor the lives of the 40 brave heroes on Flight 93 that prevented further destruction to our nation by choosing to fight back and not allow the plane to reach its destination. It was an honor to have First Ladies Laura Bush and Michelle Obama present at this year's service.
Next year, we look forward to the tenth anniversary and the dedication of the first phase of a new national memorial here in Shanksville. We invite everyone to come and visit the memorial. You can also view the progress of the construction at www.honorflight93.org.
William D. Russian, Fire Chief, Central City Fire Department and ISO field representative
We spoke to ISO field representative Bill Russian, who gave us a firsthand account of his experiences that day with Flight 93. He was an assistant fire chief with the Central City Fire Department in Central City, Pennsylvania, when the department responded to a reported plane crash in the area.
"While driving to work, I heard the report about the World Trade Center incident that morning on my car radio. Shortly thereafter, the radio announced the plane crash into the Pentagon. Not long after that, the news reported the plane crash in Stonycreek Township, near Shanksville, Pennsylvania. My home is four miles from the site, and I started driving home to make sure my family was all right.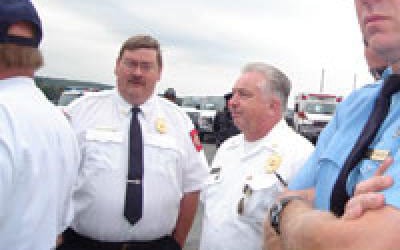 Shanksville Chief Terry Shaffer talks with Central City Chief and ISO field representative Bill Russian during a 9/11 memorial ceremony.
There seemed to be little or no traffic on the roads. I noticed in my rear view mirror a group of vehicle headlights approaching. As they got closer, I could see emergency lights. As they passed me at high speed, I realized it was the Pennsylvania State Police heading west. By then, I had contacted my family, and I decided to proceed directly to the crash site.
I arrived on the scene about an hour after the crash and found the Central City Fire Department located on the eastern side of the crash site; the seven other fire departments were on the western side. Emergency vehicles and responders were on the scene, surrounding the smoking crater in the ground. As expected, given the crash impact, there were no large plane pieces such as a tail section, fuselage, or wings. The evergreen trees located south of the crash site were charred. There were no victims to help or bodies to recover, just a smoking hole in the ground. There were local and state police, FBI, Somerset County EMA, and various other state and federal agencies present. The scene was still chaotic since the public and media were trying to access the site for a look or photos. Once officials declared the area a crime scene, the principal function was to secure the area. Throughout the entire experience, I felt fear, anger, and appreciation for all the responders and sadness for the victims' families.
The fire, EMS, and police responders attended two memorial services after the crash. The responders came as an honor guard for family members as they arrived. Family members came out and shook our hands, hugged us, and thanked us. They had questions about what we saw when we arrived at the crash site. As the families went into the building to attend the memorial service, a representative came out to ask that we attend with them, which we did.
There is not a day that goes by that I don't think about and shed a tear for what happened that day and all the 9/11 anniversaries since.