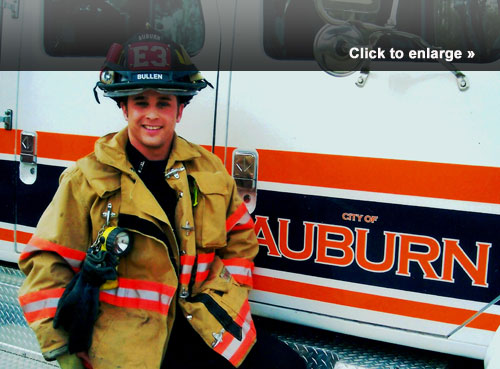 Firefighter Peyton Bullen stands proudly in front of a Southwest Lee County Fire Department fire truck.
Peyton Bullen
ISO Field Representative
Assistant Fire Chief, Almaville Volunteer Fire Rescue Department
As an ISO field representative in Tennessee for the past six years, Peyton Bullen has evaluated fire protection in communities across the state and helped formulate Public Protection Classification (PPC®) gradings in accordance with ISO's Fire Suppression Rating Schedule (FSRS) — the criteria ISO uses in reviewing the firefighting capabilities of individual communities. To ensure that the fire service of Tennessee understands the FSRS, Peyton assists the Tennessee Fire Service and Codes Enforcement Academy every year as an instructor for the ISO PPC gradings course.
The fire service has played a key role in Peyton's life from a very young age. His father and godfather were both paid firefighters in McComb, Mississippi. In 1998, at the age of 17, Peyton decided to go into "the family business." He began his fire service as a junior firefighter with the Wetumpka Fire Department in Alabama, where he served actively as a volunteer firefighter for seven years.
While in college, Peyton volunteered with the Southwest Lee County Fire Department in Auburn, Alabama, serving as a captain and training officer during his five-year tenure. In 2002, the city of Auburn hired Peyton to work full-time as a paid firefighter. He graduated with high honors from his recruit class and served as an apparatus engineer with the Auburn Fire Division until 2005, when ISO hired him as the field representative for Tennessee.
Peyton holds the National Fire Protection Association (NFPA) Certified Fire Protection Specialist (CFPS) designation, as well as many certifications from the National Board on Fire Service Professional Qualifications, including Fire Officer II, Fire Officer I, Fire Investigator, Apparatus Operator Aerial, Apparatus Operator Pumper, Fire Fighter II, Fire Fighter I, Fire Instructor I, and Hazardous Materials Awareness and Operations.
Peyton is currently the assistant fire chief of the Almaville Volunteer Fire Rescue Department (AVFD) in Rutherford County, Tennessee, approximately 30 miles southeast of Nashville. The district is a 67.8-square-mile suburban community with rural fringe areas and a total population of 25,500. AVFD has three stations and 60-plus volunteer personnel. The response area holds an ISO Class 6/10 Public Protection Classification with a creditable alternative water supply. Since taking office in 2010, Peyton has successfully implemented new minimum firefighter training standards, created a new driver/engineer training program, and created new standard operating guidelines to help the department better meet the needs of the community.