By Hugh "Skip" Gibson
Achieving a Class 1 rating for local fire protection efforts based on ISO's Fire Suppression Rating Schedule (FSRS) Public Protection Classification (PPC®) can be a significant accomplishment. To get tips on how communities can successfully navigate the process, Community Fire Protection News interviewed fire chiefs whose departments achieved a Class 1 rating and asked how they did. Those interviewed include Miford Jordan, Montgomery (Alabama) Fire Department; Shelby Willis, Largo (Florida) Fire Rescue; Tom Jenkins, Rogers (Arkansas) Fire Department; and Joe Schelstreet, St. Charles (Illinois) Fire Department.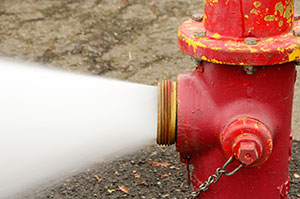 When the Montgomery Fire Department received an FSRS Class 2 rating several years ago, Chief Miford Jordan immediately set his sights higher, determined that his department would achieve a Class 1 rating during the next rating period. It's a goal his department recently met, but Jordan says getting there took a lot of preparation and hard work.
"The first thing we did was assemble an ISO committee that understood the importance of our goal," says Jordan. "We also developed a relationship with the Communication Dispatch Center and Montgomery Water Works. That was vital since their operations played a major role in our plan to improve our ISO rating."
Another valuable strategy was to purchase records management software, which allowed the department to better monitor training hours and certifications, response times, and staffing and equipment status data. "We found that a viable records management system improved our ability to compile accurate data required by ISO," he says. "In the previous survey, we either had not maintained proper records or were unable to produce valid records to receive complete credit."
Preparing well in advance and looking critically at policies and procedures were also key tactics for the Rogers Fire Department, another Class 1 community. Says Chief Tom Jenkins: "The path was not haphazard. Seven years ago, we began to put processes and projects on the radar to complete this goal." As part of its approach, the department undertook a formal risk assessment, developed a standard of cover, and implemented changes in deployment processes.
The department sought accreditation from the Center for Public Safety Excellence (CPSE). "The CPSE accreditation process allowed us to validate our processes and deployment model. It was paramount to our success because the feedback and validation we received galvanized us for the ISO evaluation," says Jenkins. In addition, a 2011 community bond issue provided funding to acquire additional resources that the department identified as fire safety priorities, which was another key to success.
Largo Fire Rescue found it helpful to review its past performance, says Chief Shelby Willis. "We reviewed our deployment history and response data, as well as our fire prevention initiatives," she explains. "This helped us learn where we excelled and where we did not. The investment in time really paid off and revealed things we didn't notice before. For example, we discovered that we were not using our ladder truck correctly and were able to make a change to our deployment strategy as a result."
Another approach taken by Largo Fire Rescue was to meet with other local fire departments as well as its county 9-1-1 call center and geographical information system (GIS) departments to find areas where information sharing and collaboration were possible.
For Chief Joe Schelstreet of the St. Charles Fire Department, the act of preparing for the FRSR review uncovered areas in need of improvement and also created an opportunity to improve relationships with key stakeholders. "In a collaborative effort, we met with our public works water division, our dispatch center, the head of our training division, and all members of the department's command staff to prepare for the rating process and to examine deficiencies we encountered," he says. "As a result, we developed and presented a plan to the city administrator that called for increasing the maintenance of our fire hydrants and for keeping better records on work we were already completing."
New FSRS rating system gets an A+
The chiefs are enthusiastic about the new FRSR rating schedule, which Chief Jordan calls "more fire department friendly" and which Chief Schelstreet praised as being more "modern."
"It has shed much of the antiquity of the old FSRS," agrees Chief Jenkins, "and it does a better job of reflecting contemporary service delivery needs and evaluating a department's ability to suppress structural fires."
Chief Willis also views the new schedule as a positive change. "The assessment requirements are easy to follow," she adds, "and the assessed values are distributed in a way that gives each department the ability to showcase its strengths."
The new rating schedule allowed Chief Jenkins' department to earn extra credit for risk reduction efforts and for "having a true National Fire Protection Standard 1710 deployment model." Chief Jordan likes that the new schedule permits greater staffing flexibility. "In an era of financial turbulence, allowing fire departments to receive credit for uniformed support staff as available response personnel was a major improvement," he explains.
CRR credit, FSRS process appreciated
The revised FSRS schedule now rewards departments committed to community risk reduction (CRR) activities, which is something the chiefs welcomed. Says Jordan: "The ability to earn credit in the areas of fire investigation, fire education, and fire prevention are appreciated as a means to earn credit; but even more, it encourages departments to focus greater efforts in the areas of fire prevention."
The chiefs also approved of the new FSRS process and the new four-year schedule recently implemented, which replaces the former ten-year schedule.
"The process was seamless and very relaxed," says Chief Willis. "Our assessor discussed the requirements in advance by phone and reviewed information and answered questions as they came up. The actual assessment occurred in a very calm environment and provided an opportunity to discuss a lot of information. The four-year schedule is appropriate and allows each department to make necessary changes to improve subsequent ratings."
Chief Jordan agrees: "The ease of access to rating sheets, surveys, and support from ISO representatives allowed us to better evaluate our status and make necessary adjustments." It also helped that "ISO representatives were always available for guidance and clarified rating standards throughout the process. It made our preparation much easier," he adds.
While some may see the four-year schedule as more demanding, since communities will have less time to prepare for their next ISO rating, "the benefits outweigh the disadvantages," Jordan believes. "We'll now be required to continually evaluate our department, which in turn prevents us from becoming complacent. It will also deter some communities that might have received a favorable ISO rating under the previous ten-year schedule and then quickly reduced staffing and department finances for the next six to eight years — ramping up again just in time for the next ISO rating."
Another benefit of the shorter time frame is that ISO reviewers will have greater exposure to individual departments due to more frequent review visits, and they will be able to more readily spot emerging trends, Chief Schelstreet notes. "ISO can become more familiar with the departments it rates and keep closer pace with the methods by which fire departments across the country are meeting individual challenges. This information can be shared and used to adapt the schedule more rapidly to today's fire service."
ISO Class 1 rating: "It's huge!"
The chiefs believe that achieving a Class 1 rating is a huge accomplishment and a source of pride for any community. "It's huge!" says Chief Willis. "It was an honor to be able to report that Largo Fire earned an ISO Class 1 rating. The news was well received by our city administration, commission, local business owners, and the community."
Achieving a Class 1 rating gives a fire department good leverage during budget time, notes Chief Schelstreet. "Demonstrating continuous improvement is very important to us, especially during those times when we're not only communicating our role in the community to residents and key decision makers but also when we're competing for budget dollars," he says. "Using our Class 1 rating to demonstrate our department's efforts will continue to pay dividends."

A Class 1 rating also enhances community support for the fire department in a very practical, dollars-and-cents way, Schelstreet adds. "The individual homeowner can expect to see a reduced cost for property insurance as compared to a community that doesn't achieve a high rating. Plus, with business attraction and retention very competitive, this sends a strong, positive message to business owners."
The city of Montgomery also hopes to leverage its Class 1 rating as a community development marketing tool. Notes Chief Jordan: "The city immediately used the rating as a means to draw industry to our community. We presented the insurance benefits and emergency service protection offerings to companies considering building in our community and found that it greatly influenced their decisions."
Chief Jenkins says his community is seeing an economic benefit from its recent Class 1 rating. "Rogers is one of the fastest-growing municipalities in the country, ripe with residential, commercial, and retail development. Reducing our PPC rating shows developers and citizens that we're serious about doing everything we can to keep them safe and deliver a positive impact on their wallets."
Most important, a Class 1 rating tells members of the fire service that their contributions are recognized and valued. "It's a source of pride for the women and men of our department," says Chief Jenkins. "They know they've contributed to the marketability of our city and helped homeowners save money."
Hugh "Skip" H. Gibson IV is the manager for ISO Community Hazard Mitigation. Skip acts as ISO liaison to national and state fire service associations, oversees conference outreach, and speaks to associations and communities at educational programs on behalf of ISO. He also manages the ISO Public Protection Classification (PPC®) program in 14 states. Before joining ISO, Skip had a 30-year fire service career with the Cherry Hill (New Jersey) Fire Department, retiring as chief fire marshal. Currently, he's chairman of the Board of Fire Commissioners. Skip has a bachelor's degree in fire science administration from Holy Family University, Philadelphia, Pennsylvania.