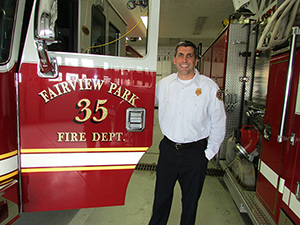 Recently, Tom Weber, former national director of ISO Community Hazard Mitigation, interviewed Chief Anthony Raffin, chief of the Fairview Park (Ohio) Fire Department. They talked about new risks that firefighters are facing, the financial challenges many fire departments confront, and the fact that fire severity is up even though fire frequency is down nationwide.
CFP News: Let's start with a brief overview of your emergency service career.
Chief Raffin: I graduated from Capital University in Columbus, Ohio, and started my professional career as an accountant with Deloitte. But with family already in the fire service, becoming a firefighter/paramedic had always been a dream of mine, and I decided to pursue it. In January 1999, Fairview Park hired me as a probationary firefighter/paramedic, and I'd never been so excited to go to work. I read every book, listened to every story, went to every training, and jumped on every responding rig I could. I was eventually promoted through the ranks until 2014, when I was sworn in as chief.
CFPN: When we look at the numbers, fire frequency is down nationwide, but fire severity is up. What accounts for that, and how can departments respond?
Raffin: The number of fires is down nationwide, but the general public doesn't realize that the dangers that emergency responders face is not down. The materials used in building construction, furniture, and fixtures, including a greater quantity of petroleum-based components — coupled with larger living spaces — is contributing to the severity of the fires we fight. Fires are reaching extreme temperatures faster than ever before. The best way to combat the dangers is through well-planned, well-documented training programs. Firefighters need to read books about changing construction trends and how different types of fuels affect fire behavior. We're not getting as much experience on the fire ground, so we need to get onto the training ground to practice evolutions on fire attack and fire behavior.
CFPN: What other firefighting challenges do you see down the road?
Raffin: Unfortunately, one of the largest challenges for the fire service involves finance. Because fires are down, it's harder to justify to the community that investment in the fire service is needed now more than ever. We must ensure that we're running as efficiently as possible and demonstrate to the community that we're responsive to their needs. We can do that by becoming full-fledged emergency services departments that also happen to respond to the occasional fire. The community needs to see that we're more than firefighters riding on shiny red trucks. We're also responders to emergency medical services (EMS) hazardous materials (hazmat) calls, trench rescues, water rescues, car accidents, building collapses, confined-space rescues, and the like. We provide CPR classes, car seat installation assistance, fire prevention and safety talks, and community open houses. The more people understand the range of emergency services we provide, the easier time we'll have when it comes to funding.
CFPN: There's a delicate balance between saving lives and property and protecting your own firefighters from risks during a fire. What systems or protocols can ensure that firefighters are as safe as possible?
Raffin: Our ability to assist victims in an emergency is nonexistent if we ourselves become part of the emergency, so situational awareness becomes an important consideration. Determining the acceptability of risk to our firefighters is critical for our incident commanders on the fire ground. We've adopted the International Association of Fire Chiefs' (IAFC) ten rules of engagement for structural firefighting. These rules take into consideration building characteristics, fire factors, victim viability, and firefighting capabilities when assessing risk. Training around situational awareness is extremely important and helps our officers focus on safety.
CFPN: The IAFC, International Society of Fire Service Instructors, National Institute of Standards and Technology, and UL recommend the SLICE-RS (Size Up, Locate the Fire, Isolate the Flow Path, Cool from a Safe Distance, Extinguish and Rescue and Salvage) system for attacking building fires. Has your department adopted this system?
Raffin: Last summer, all department members attended classroom training on SLICE-RS, followed by practical training evolutions. A grant from the Ohio Fire Academy enabled us to train in a mobile fire-simulation lab. We created a realistic training environment and changed scenarios for fire intensity, location of origin, flow paths, and victim locations. We were able to achieve member buy-in for SLICE-RS more quickly by providing an opportunity to actually experience the science behind SLICE-RS.
CFPN: More and more we're hearing about the health risks associated with firefighting, especially relating to cancer. What are you doing to address the growing risk of cancer in the fire service?
Raffin: In 2001, one of our active-duty members was diagnosed and died from an untreatable and aggressive cancer, so cancer is certainly on our minds. We have protocols and standard operating guidelines (SOGs) in place to ensure that our firefighters are wearing protective gear and using self-contained breathing apparatus (SCBA) for all types of working fires. We're also monitoring air quality and have implemented a gear-washing and inspection program to ensure members are not ignoring the hidden contaminants left on their gear after a fire.
CFPN: How do you see your department evolving?
Raffin: We're working more collaboratively with neighboring fire departments. In 2006, we established a central dispatch that now addresses the emergency service needs for five communities and close to 115,000 people in our region. We hope to expand these collaborative efforts. We also plan to examine possibilities for a functional consolidation of regional needs and tasks, including training, SOGs, fire prevention, and asset sharing. Our goal is to create a pathway for future excellence and to strengthen our relationships with other departments without losing our autonomy or ability to meet the needs of our own community.
CFPN: What was your proudest career moment?
Raffin: The day I received the letter stating that I had been newly hired as a firefighter/paramedic was life-changing and by far the proudest moment of my career. It was something I had worked very hard to attain. Now, as a chief, my proud moments involve my members. To observe them being excited and taking ownership of their careers, to see them walking proudly in parades, teaching schoolchildren about fire safety, or having that great stop at the house fire — that makes me proud.
CFPN: What advice would you give to a new fire chief?
Raffin: Stay true to your members; they are your department. If you invest and trust in them, they'll exceed your expectations and represent your department well in the community. Also, listen to your stakeholders to better understand their needs. Explain to the community what your department does through annual reports and other methods. Train and then trust your officers. Finally, don't be afraid to lead. No one respects people who can't make decisions. Whether they're good or bad, make educated decisions and take ownership of them.
Tom Weber is the Former National Director, Community Hazard Mitigation, Verisk insurance solutions. Tom is now retired.