The fire service is known for its traditions. One such tradition is the time-honored commissioning of new fire apparatus with a good old-fashioned wetdown. I had the good fortune to be invited to one this summer at the Boonton Fire Department in Boonton, New Jersey. They were welcoming a new rescue truck. This was also a good time for me to practice another tradition: building good relations between the fire service and ISO Community Hazard Mitigation.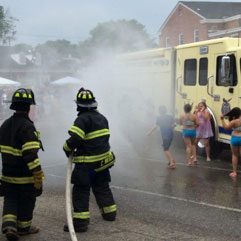 It was a hot day. It was 90 degrees, the heat emanated from the pavement, there was high humidity, and the threat of rain was in the air. Still, none of that discouraged the members of the Boonton Fire Department and their colleagues from around North Jersey from welcoming the new truck into service. It didn't stop the residents of Boonton either; they came out en masse to help celebrate. There was food and drink, music, and children running everywhere. Fire departments from all over North Jersey came roaring in with alarms blazing, soaking the truck with their hoses—along with the children and adults who were young at heart.
Boonton is in Morris County, New Jersey, and it covers 2.5 square miles, with a population around 8,500. The Boonton Fire Department was established in 1891 and is currently under the leadership of Fire Chief R.J. Ryerson. Mike Petonak, superintendent of the Boonton public works and water department, was my host, and he has a great understanding of ISO. Petonak continually strives to provide a dependable water supply for fire protection. This is not uncommon for water employees, but Petonak is also a long-time member of the fire department.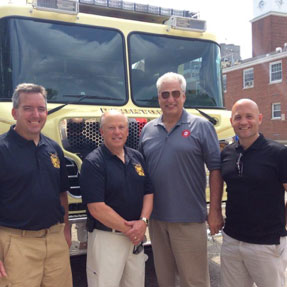 ISO actively networks with the agencies we evaluate for their Public Protection Classification (PPC®). We also serve as a liaison with insurers that base rates partly on PPC grades for a community. Favorable PPC grades can earn lower premiums from insurers that understand the risks associated with fires and the benefit of fire prevention programs.
A wetdown is a great opportunity to meet local leaders and fire, water, and emergency communication officials. Also attending was Boonton Mayor Matthew Di Lauri. As a recently elected leader, the mayor was relatively new to ISO's work, and he was very interested in how it affects his community. He learned that, for more than 40 years, we've been rating the capabilities of fire departments throughout the United States on how well they can prevent and reduce losses.
As fun as wetdowns are, they also serve several more tangible purposes. We've found that there's a value in community risk reduction, education, and outreach and have included that in our calculation when grading fire jurisdictions. Those attending a wetdown can tour the firehouse, explore and climb on the new apparatus, and talk to firefighters and other officials. Residents can ask questions, and firefighters are always eager and proud to answer. It can also be an important face-to-face opportunity for fire prevention education.
We've always had, and will continue to have, excellent relationships with fire departments, emergency communication personnel, water resource departments, and local communities. Our ability to understand and recognize their traditions definitely benefits our collaboration. It's a partnership that we appreciate and treasure.
And by the way, one tradition has not changed: everyone still gets soaked at a wetdown.
See more of the fun at the Boonton Fire Department wetdown here.