The fire service is often a risky and dangerous profession. Modern technology holds a lot of promise in making it safer for firefighters, emergency responders, and the public. Community Fire Protection News wants to share information as often as we can on the new devices and systems being developed. We recently heard of a major initiative by the Austin (Texas) Fire Department concerning the use of unmanned robotic devices (aerial, land, and maritime) to help firefighters increase safety on the job. This is their report.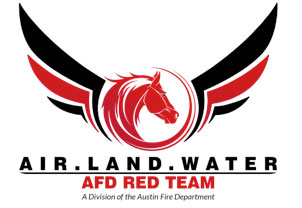 By Assistant Chief Richard Davis, Austin Fire Department (AFD)
It all started in 2013 when I undertook an executive fire officer research project for the National Fire Academy. I researched how firefighters could use robotics to avoid excessive danger while gathering important information about an emergency and ended up publishing a paper titled The Practicality of Utilizing Unmanned Aerial Vehicles for Damage Assessments. The paper is available on the Federal Emergency Management Agency (FEMA) website.
In January 2014, I presented my vision for using unmanned aerial vehicles (UAVs) in emergency response mitigation to the department's Executive Team. The report was so well received that they decided to officially look into the possibilities. I volunteered to become the executive sponsor of a team to determine if this technology was appropriate for AFD emergency response. Four months later, a working committee was formed called the Robotic Assistance Mitigation (RAM) Team. The name was changed to the Robotic Emergency Deployment (RED) Team, and the scope of the research was broadened to include land and maritime assets.
The 10 members of the RED Team are dedicated to evaluating and refining the use of robotics in the fire service and other public safety fields. Their mission is to mitigate real-world problems through the use of air, ground, and maritime remotely-operated rescue robotics. The team is made up of individuals who have private pilot licenses, Federal Aviation Administration (FAA) knowledge exams, and FAA ground school certifications together with commercial flight instructors in fixed- and rotary-wing formats.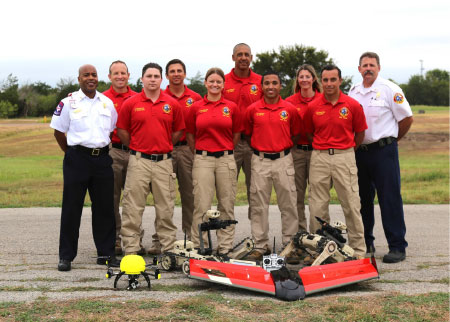 Members of the RED Team
The RED Team's mission complements the vision of AFD to enhance firefighter safety and improve emergency response through the assessment and implementation of emerging technologies like robotics. Such tools can help facilitate increased situational awareness and incident command decisions at emergency scenes.
Safety is the priority, and robotics can help keep firefighters from excessive danger, in addition to gathering important information about the emergency scene. They're learning about potential hazards using robots equipped with thermal imaging cameras (TICs), air-monitoring sensors, and/or mounted cameras. Robotics can benefit many different scenarios:
High-rise fires
Search and rescue
Hazardous materials mitigation
flood events
Wildfires
Commercial and residential fires
Postfire investigations
Prefire planning
Scene mapping
The advantage of deploying UAVs during a disaster is the opportunity for immediate feedback. They can enhance the way emergency response teams operate during disaster situations. Emerging technologies, including the use of robotics and UAVs, have been demonstrated in other municipalities, states, and countries in assisting the fire service in emergencies. However, AFD was the first metro fire department in the United States to receive a Certificate of Authorization (COA) from the FAA to use the systems as part of emergency response. AFD has been given the opportunity to study and evaluate robotics technology in four phases:
Education, certification, and training, including establishing policies and procedures (1st year)
Evaluation of the various hardware and software platforms available within the industry (2nd year)
The purchase of robotic platforms in various formats for emergency response (3rd year)
Continued testing and upgrades (4th year)
AFD is continually expanding its research and collaborations within the industry of robotics technology. In addition to learning more about entities with existing FAA authorizations, RED Team representatives network with the FAA's unmanned aircraft systems integration office and other industry professionals. While drafting an application to the FAA for authorization to use unmanned aircraft, the RED Team developed policies, procedures, and a set of standard operating guidelines—complete with performance standards—that the FAA has directed other organizations to use as a template and resource.
The RED Team has evaluated ground robots in various emergency scenarios to simulate operation in subterranean industrial areas, confined spaces, structural collapses, and hazardous material events. They've evaluated water-borne robotics in swift water to see the benefits of deploying a remotely-operated flotation device for flood victims and below water to explore the capabilities of performing searches with underwater vehicles
The fire service's general reluctance to explore advancements in technology hinders the potential for improvements. As guardians of public safety, we must constantly investigate opportunities for process enhancements. Having a systematic approach in every facet of the recovery process enhances the ability to return communities to pre-disaster states. The AFD RED Team uses the following robotics (air, land, water) for research and emergency response:
Leptron's Rapidly Deployable Aerial Surveillance System (RDASS™) Quadcopter drone is an efficient platform for high- or low-altitude surveillance, photography, and sensor deployment. RDASS offers a fully featured flight system and military-grade ground station. Battery propulsion means there's no power loss and a quiet operation with easy field charging.
The DJI Inspire 1 Quadcopter V2.0 is a professional-level craft capable of the most demanding projects. Flight is assisted through a variety of systems such as GPS, vision-positioning systems, and laser and camera sensors. The Inspire 1 has the ability to interchange and upgrade the gimbal and camera system for future options.
The Micro Tactical Ground Robot (MTGR) is an advanced lightweight robotic system [15 lb. platform, 25 lb. with manipulator arm, Ruggedized Operator Control Unit-7 (ROCU-7), and ancillary equipment]. It's highly maneuverable on all terrains, and capable of climbing stairs and overcoming obstacles.
Emergency Integrated Lifesaving Lanyard (EMILY) is a 4-foot-long, remote-controlled buoy that can cruise through rip currents and swift water at speeds up to 22 mph. It can reach distressed swimmers faster than human lifeguards or rescue swimmers.
In 2016, the RED Team program won the Texas Fire Chief Association's Lone Star Achievement Award for the "implementation of an innovative and progressive program that enhances their community's fire and life safety service delivery." Our intent is to lead with the proper education, certification, and training to make sure we're doing things right.
In the summer of 2016, the project transitioned into the implementation phase when it moved from our Special Projects section to our Wildfire division. It will "live" there as deployment protocols are finalized. The most important lesson learned so far is that you must think through how to best incorporate the technology into your operations and sustain it. Don't do it simply because it's a fancy new toy or because "everyone else is doing it." You'll only guarantee your project's failure if you go that route.
Visit www.AFDREDTEAM.com for more information about their program.
FEMA website: http://www.fema.gov/