ISO's Building Code Effectiveness Grading Schedule (BCEGS®) program rates the effectiveness and enforcement of building codes in communities throughout the United States. We assign a classification of 1 (meaning exemplary building code enforcement) to 10. A favorable classification is a milestone worth noting. This past year, Washington County, Maryland, achieved a class 2 rating for both residential and commercial construction. That's quite an achievement considering less than 7 percent of communities in Maryland have a classification of 2 or higher. How did they do it?
One customer wrote this to the county's permitting department: "Thanks for your concurrence with increasing the size of the deck posts from 4x4- to 6X6-inch posts. The point you made about the increased chance of the 4x4-inch posts twisting as they dry out seems to be a very important consideration. I want to avoid that possibility so I am glad to upgrade with the 6x6-inch posts."
Another customer wrote, "Several design issues arose throughout our project, and two Washington County inspectors were happy to meet on-site with a plan reviewer to discuss possible solutions with the project team. There were several times I forgot to call for an inspection. But when I contacted inspectors in the morning, they squeezed my project in to keep us moving."
As those customer reviews show, Washington County's plan review, permitting, and construction departments work as a team with contractors and customers involved in any construction project in the county. The staff understands that improving their BCEGS classification is one way they can support customers and the construction community. Customer service is a key to giving that support.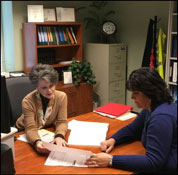 Even so, Angela Smith, deputy director of the Washington County, Maryland, Permitting Department, was quick to point out that their jurisdiction's structures are held to a high building standard. The standard takes into account natural disasters and mitigates other potential hazards—which create a lower risk for insurers. That way, they aren't just ensuring a safer community but also passing along cost savings from more favorable insurance rates to citizens and businesses.
"For our team, it's not about fees and permits," Smith said. "It's about providing for the welfare and safety of citizens. Providing information at the beginning of the permitting process helps our customers make better decisions and leave with the confidence of knowing what they're doing."
With 16 code enforcement personnel, the permitting department processed approximately 6,000 permits and 39,085 inspections during 2015 and 2016. That means efficiency is top of mind. The BCEGS process has allowed Washington County to hone their skills as a code enforcement agency. And they've taken decisive steps to deliver a better experience and share information with customers.
"We have exceptional code enforcement officials engaged with projects and community members on a daily basis, offering best practices that often result in time and cost savings for projects," Smith said.
The BCEGS process sharpened their focus on qualifications and training department staff. The staff logged more than 2,550 hours in training focused on the International Code Council (ICC) building codes and field inspection.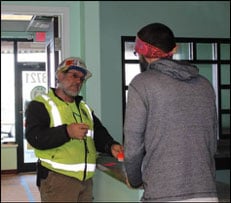 "The ultimate goal is to guide projects through the plan review, permitting, and inspection processes on time or ahead of schedule and at or below budget so residents and businesses can carry on," said Rich Eichelberger, deputy director of Washington County construction.
In addition to a focus on training, Washington County invested in software upgrades critical to increasing communication with customers and expanding service capabilities. Some of the new features included the expansion of online building permits and licensing. They can also send text and e-mail reminders for expiring permits and alert customers when inspections are complete.
"The Washington County staff has worked hard over the years to excel in our rating to benefit our community financially, as well as to provide healthy and safe environments to all of our citizens," said Smith. "That's something we'll continue. We're committed to supporting building code enforcement to make Washington County as safe a community as possible. "
CFP News commends Washington County on its efforts.