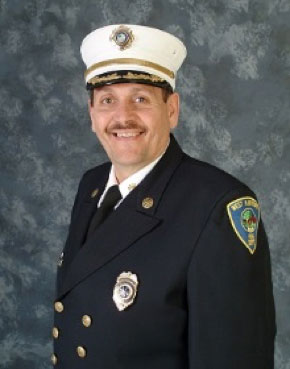 An interesting current trend in the fire service is that fire frequency is down nationally, but fire severity has increased. There are fewer fires, but the fires are more dangerous and damaging. Community Fire Protection News spoke with Chief Gary S. Allyn of the West Hartford, Connecticut, Fire Department on this topic and others. He has experience as a firefighter, paramedic, and emergency management professional.
Chief Allyn began his fire service career in 1975 as a volunteer firefighter and emergency medical technician. He worked as both a firefighter and a paramedic, even as a hospital educator and emergency preparedness coordinator. He eventually joined the West Hartford Fire Department and rose through the ranks to become fire chief, fire marshal, and emergency management director in 2011. Chief Allyn has a bachelor of science degree in safety engineering and an associate degree in fire technology and administration; he graduated from the National Fire Academy Executive Fire Officer Program. A Certified Emergency Manager and an Emergency Response Coordinator for the U.S. Department of Health and Human Services, he's also safety officer for the Connecticut Region 3 Incident Management Team (CTIMT-3).
Community Fire Protection News (CFP): When we look at the numbers, fire frequency is down nationwide, but fire severity is up. Why do you think this is so, and how can departments respond?
Chief Allyn: Being an intelligent, industrialized nation has its pluses and minuses. Our quest for economical and environmentally friendly buildings has caused a departure from organic construction principles and a shift to "engineered" materials and systems that make for tight, energy-efficient buildings. Coupled with the increased use of plastics and synthetics for appliances, furnishings, and interior finishes, you get fires that burn hotter faster and cause building components to fail more quickly. That hampers occupant evacuation and creates more dangerous conditions for firefighters.
Another dimension is that with today's media technology, we're more aware of the number of severe fires. Scientists are taking notice and developing tools to help make the public and fire service safer. With increasing scientific involvement, we can adapt to changes in construction and products used in the fires we fight. Our response to fire has been built on tradition, not quantifiable data. We can't keep doing what we've always done and expect a different outcome. We need to embrace residential sprinklers and challenge home builders on the importance of installing them in every new home.
CFP: A few months back, your department had a very challenging residential fire with multiple victims. What do you feel was critical to the outcomes of that event?
Allyn: The building was a 48,000-square-foot, 4-story, 38-unit condominium built in 1971. It had an unprotected wood frame with brick veneer, with a center hallway featuring living units on either side. It was equipped with a local and central station fire alarm system. The fire occurred at 2:17 a.m. in a second floor unit in the center of the building and was auto-exposed to the unit above through the exterior. All occupants either self-evacuated or were rescued from decks by fire department ladders. The occupant of the fire unit awoke to find her bed on fire and the bedroom ablaze. As she exited her unit, she left the door to the hallway open. The door had a self-closing device, but it was disconnected. Fire broke the bedroom windows and lapped up the side of the building to the unit above. Those windows failed, allowing the fire to spread into the upper bedroom. Two people in that room self-evacuated. The three occupants were the only ones injured in the fire. All three went to a burn hospital due to smoke inhalation and extremity burns and were released within three days. The fire was contained to the unit of origin and bedroom above.
The era of construction played a role in the building performance during the fire. Because the building wasn't sprinklered, requirements in the fire code—such as self-closing door devices, fire alarms, and interior finishes in the common areas—played a significant role in the evacuation of the occupants and growth of the fire before the arrival of the fire department. The building is inspected annually and had been prefire planned. The early activation of alarms, numerous 9-1-1 calls by occupants, and location of fire stations all contributed to the successful outcome of the fire. Even more, the fire unit staffing to conduct fire attack (with personnel involved in the preplanning of the building)—along with comprehensive size-up, early activation of mutual aid, and the use of the incident command system to manage all multidiscipline assets—contributed greatly to the fact that only two units became uninhabitable. Occupants were able to return to their homes within a week of the fire. Knowing the building before the fire and an accurate size-up were key.
CFP: What additional new firefighting challenges do you see down the road that the fire service will have to address?
Allyn: As building materials and methods continue to evolve, the fire service needs to be a stakeholder at the table. Green buildings or buildings certified by Leadership in Energy and Environmental Design (LEED) may be the next challenge in the study of fire behavior. We have new alternative energy sources for heating and cooling buildings and for powering our vehicles. The addition of photovoltaic panels and other energy-generating systems calls into question whether a building's electrical system is secure during operations, potentially creating another danger zone. The enhancement of battery technology that powers cordless devices and recreational toys is proving to be a firefighting challenge. And while we focus on those related firefighting challenges, response to civil unrest, active assailants, and terrorism will add a dimension that's unpredictable, requiring increased training and coordination with law enforcement.
LEED-certified buildings and green buildings may be the next challenge in the study of fire behavior.
CFP: The International Association of Fire Chiefs (IAFC) Safety Section, the International Society of Fire Service Instructors (ISFSI), the National Institute of Standards and Technology (NIST), and UL (Underwriters Laboratories) have scientifically developed the SLICE-RS system for initial attack for building fires. Has your department established a plan to adopt this system? If so, how difficult do you think it will be to change the culture of your department as defined by this system?
Allyn: We're very fortunate to have a command staff that remains current on trends in the fire service. Some of them even teach at the state fire academy. We've used the principles of SLICE-RS for some time but have not used the formal acronym. The fire service is deep with tradition, sometimes to a fault. So to provide unity between the older and younger officers, the principles guide the action. When it's accepted, the acronym appears.
CFP: What are you doing to address the growing risk of cancer in the fire service?
Allyn: We've been enhancing cancer awareness in our culture for several years. Most firefighters don't believe they'll be the next cancer victim. Policies are in place to monitor the air of environments before the SCBA (self-contained breathing apparatus) is removed. All turnout gear is laundered every six months or after every structural fire. Each firefighter has a second set of gear for this purpose. Turnout gear is not allowed into the living quarters of the fire station and must remain in the apparatus bay. All of our fire stations have diesel extraction systems that have greatly improved the air quality and surface contamination in the buildings. We do some medical monitoring but need to improve our presumptive testing. There's still much to do in medical surveillance and testing, some of which requires collective bargaining. The attitude toward medical monitoring must change within the firefighting community because there's still suspicion within the ranks as to its purpose.
(NOTE: See the article "'I never saw that coming'—Cancer in the fire service," also in this issue.)
CFP: How do you see your department evolving in the future?
Allyn: The department is taking a more active role in emergency medical services (EMS). On August 1, 2016, the department became the designated paramedic provider for the town. EMS accounts for 70 percent of call volume. We'll provide community paramedicine as an enhanced EMS service. Our fire prevention and inspection program continues to evolve to keep up with new construction and modifications to older construction. We're focusing on overall community risk reduction, and fire is becoming the catastrophic result when our prevention, inspection, and education programs fail. Active assailant events are happening around us. We've trained with our law enforcement partners to become part of the rescue task force to support that mission. Every riding position in the department is now equipped with ballistic personal protective equipment (PPE). When people in town don't have an answer, they call the fire department. We still make house calls!
CFP: What's been the proudest moment in your career?
Allyn: Earning the faith of the people to be appointed fire chief of a department with an excellent reputation in the profession.
CFP: What advice would you give to a new fire chief?
Allyn: Be yourself, be nice, be fair, hire the best, share what you know, and surround yourself with great people. Being a fire chief is a journey, not a destination.