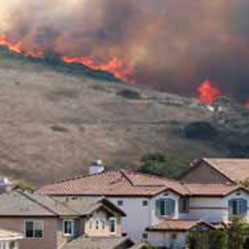 I've been fortunate in my ISO tenure to attend and present at wildland fire conferences, listen to experts, and study the wildland-urban interface (WUI) problem. During my 30 years as a firefighter in New Jersey, I responded to every type of call, including some large brush and forest fires. I don't think those calls would necessarily qualify as wildland fires, but in rural New Jersey — especially in the Pine Barrens region — the fire departments and the New Jersey Forest Fire Service see their share of wildland fires. However, the western states have witnessed an increasing number of large wildland fires, especially over the last decade.
As drought stretches on for years in California and other western states, most everyone is paying attention. Many fire chiefs and foresters, in particular, are growing more anxious with each new dry day. We're all hoping for the best, but wishful thinking is no substitute for preparation. Just like the folks who put out the fires, insurers should also be prepared for every possible fire-related scenario.
I retired from my position as chief fire marshal of the Cherry Hill (New Jersey) Fire Department nine years ago to join ISO, a Verisk Analytics business that serves the insurance industry and other risk industries. As someone who devoted so much of his life preparing for emergency scenarios, I'm amazed how the actuaries, engineers, scientists, and other professionals at Verisk find new ways to merge different disciplines to generate advanced analytical predictive tools. One such tool is FireLine ™.
Insurance professionals from our commercial property area work with scientists and engineers from our climate area to analyze and quantify wildland fire risk. Those folks are at the forefront of natural hazard analysis and severe weather forecasting. They analyze a variety of data, including satellite images, topographic maps, community studies, and environmental reports. The result is a product that addresses three key questions in the analysis of wildfires:
Fuel — What types of vegetation and construction will feed a wildfire?
Slope — Is the area on a steeper slope, therefore more susceptible to the increased speed and spread of a wildfire?
Access — Will the wildland-urban interface include dead-end or dirt roads, making it difficult for firefighters to access the wildfire?
FireLine provides a score for each of those areas of concern, then a cumulative risk score from 0 to 30. FireLine also identifies properties at risk to wind-borne embers.
Anticipation in lieu of prevention
The brochure for FireLine makes an interesting statement: "You can't control Mother Nature, but you can identify her target zones."
That brochure also mentions two noteworthy wildland fires: the Bastrop County Fire of 2011 in Texas and the Black Forest Fire of 2013 in Colorado. Both fires caused hundreds of millions of dollars in property damage. Interestingly, FireLine identified 100 percent of the damaged properties as being exposed to wildfire risk.
Fire chiefs know that prevention is an important part of what they do, maybe the most important part. One wonders how much prevention can help in the uniquely hazardous situation many western states face when it comes to WUI. You can't just move all the houses. And you can't just make it rain. However, there are some great national, state, and local mitigation programs.
The International Association of Fire Chiefs (IAFC) has led the effort by establishing a Wildland Fire Committee, creating a fire adapt communities coalition, sponsoring an annual WUI conference, and developing its "Ready Set Go" program. I worked with IAFC this year on this effort, and a flyer developed highlights the revisions in ISO's Fire Suppression Rating Schedule(FSRS), which now recognizes the community risk reduction efforts of communities in the WUI.
Hugh "Skip" H. Gibson IV is the manager for ISO Community Hazard Mitigation. Skip acts as ISO liaison to national and state fire service associations, oversees conference outreach, and speaks at educational programs on behalf of ISO to associations and communities. He also manages the ISO Public Protection Classification (PPC®) program in 14 states. Before joining ISO, Skip had a 30-year fire service career with the Cherry Hill (New Jersey) Fire Department, retiring as the chief fire marshal. Currently, he's chairman of the Board of Fire Commissioners. Skip has a bachelor's degree in fire science administration from Holy Family University, Philadelphia, Pennsylvania.