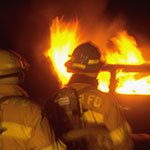 Numbers don't lie. Statistical data shows that better fire protection means lower fire losses. That's why a number of property insurers turn to ISO's Public Protection Classification (PPC®). Per $1,000 of insured property, communities with the worst PPC ratings have fire losses two or more times as high as communities with the best PPC ratings.
Incorporating a wealth of integrated data, PPC reflects key detailed variables — sources of water and their viability, automatic-aid agreements, department personnel details, dispatch operations, information on fire district boundaries, and distances to responding fire stations.
The PPC program can help communities plan, budget, and justify investments that seek to improve municipal fire protection. Many U.S. insurers of home and business property have used ISO's PPC program in connection with rating property insurance policies.
How well does your sprinkler system work?
ISO's Fire Suppression Rating Schedule (FSRS) evaluates the firefighting capabilities of communities. The FSRS measures fire alarm and emergency communication systems, the fire department, and water supply. Criteria include receiving and dispatching alarms, fire company personnel training, maintenance and testing of equipment, condition of hydrants, and adequacy of water supply. In turn, the depth and scope of the FSRS analysis is an informative and valuable tool for insurers in their underwriting workflow.
What updates has your community made?
PPC maintenance includes 3,000-plus on-site community PPC gradings each year and a Community Outreach Program that encourages local officials to notify us of changes that may affect the PPC codes of properties in their jurisdictions. Every month, we contact about 1,300 communities by phone and mail.
We also collaborate with almost every state-level fire service association to augment PPC data. Detailed information on community changes also comes from local insurers and agents. And our representatives access more than 500 public record sources nationwide every month to enhance and support the PPC database.
Where is the water?
Water information is a critical component in assigning PPC for individual properties. It's important to know if a fire department has sufficient water pressure and volume to fight a fire or if it relies on hauled water from tenders or tankers. From an underwriting perspective, claims history shows that fire losses for risks in areas not supported by a recognized water source are much more severe than losses where a creditable water supply is available.
We have full-time, dedicated experts working with local community officials to validate details of protection on-site, including performing hydrant flow tests and obtaining maps of water supply sources nationwide before recognition of credit. The data reflects water from hydrants and other workable water sources for 90 percent of the buildings in the country.
Why is all of this important?
If communities strive to improve their PPC, everyone benefits. The community benefits by investing in loss mitigation initiatives and making the neighborhood a safer place to live. The insurer benefits from reduced losses. And individuals benefit because, simply put, better fire protection saves lives.
Questions about PPC and the FSRS? Call us at 1-800-444-4554.