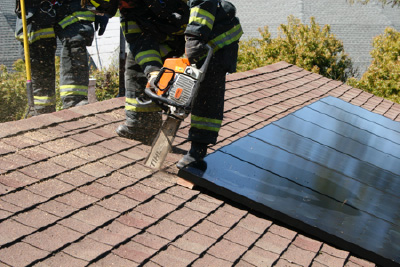 There are more than 1.3 million photovoltaic (PV) solar systems installed in homes and businesses nationwide, with 1.2 million of them on residential buildings. And the number is growing. The systems produce renewable energy through rooftop solar panels and are part of the green building movement. Renewable energy sources offer many benefits, but also present some additional safety considerations for firefighters.
Firefighters need training to respond swiftly and safely to a fire where solar technology is present. They need the knowledge so they'll feel comfortable addressing PV solar systems—and they need it before they're in an emergency situation.
Although fires caused by a PV system are rare, firefighters need training and information to make sure they can identify the presence of solar technology, safely shut the system down to the extent possible, and watch out for remaining hazards including shock.
Firefighters also need to be aware that opportunities for rooftop ventilation may be more limited, and if batteries are used in the system, they may have corrosive components or combustible metals. One new, cutting-edge, online training course offers critically important information and real-world simulations for firefighters. "Solar PV Safety for Fire Fighters" was developed by a partnership of the independent not-for-profit Interstate Renewable Energy Council (IREC) and the International Association of Fire Fighters (IAFF). The project is funded by the U.S. Department of Energy through the SunShot Initiative. Other training partners are the National Association of State Fire Marshals and the International Code Council.
Designed by experts from the solar industry and fire service, the self-paced course features rich video content and simulations so firefighters can practice the knowledge they've learned. The training teaches participants not only how to identify the presence of PV systems and shut it down, but also how to minimize shock and other hazards both on the active scene and post-incident.
IREC President and CEO Larry Sherwood said, "IREC is honored to work closely with the IAFF to bring innovative, just-in-time training to the fire service. IAFF has a long history of proactive measures to provide education to its 300,000 membership base and was a logical partner for this undertaking. The online training is an important component of our ongoing efforts with the IAFF to bring high-quality solar training to the fire service."
The course is free, and participants who successfully complete it receive a document of completion. The online format brings the scenario-based training opportunity to even the smallest fire companies and volunteer departments. That means fire stations without budgets for such training can benefit. In addition, opportunities for in-person training are scheduled in multiple states.
Actual members of the fire service are featured in the training video, such as Captain Matthew Paiss of the San Jose Fire Department (member of IAFF Local 230). He said, "An online program for PV safety has been needed for some time. It will allow many large and small departments who have been unable to do so now provide needed electrical safety training to their members at no cost."
Feedback from participants has been positive, too. "PV systems are becoming more prevalent in our communities, and firefighters need to understand how to safely work around them," said Derek Alkonis of the Los Angeles County Fire Department. "The program provides awareness of the hazards and operational procedures required to shut systems down safely. It will benefit firefighters worldwide."
The training can be accessed at the IAFF's web site: www.iaff.org/pvsafetytraining.