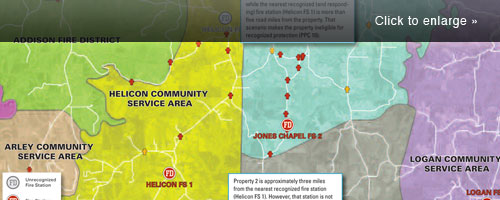 Without knowing the boundaries of independent fire protection areas, insurers can't accurately assess the fire protection for a building or assign a PPC® code for rating purposes.
We're introducing the "Insurers' Corner" starting with this issue. We hope to discuss some common questions we get from our insurer customers. If you have a question you'd like answered, just reply to this e-mail. Keep your eye on future issues for our answer.
We'll start this section with the most common question we get from insurers:
Why is identifying the "nearest fire station" insufficient to meet the needs of property insurers?
While it may be comforting to know that there's a fire station close to the insured property, the critical question for property insurers is really whether that station is the responding one on a first alarm. If the insured property isn't within the response area of a responding fire station, that "nearest" station will not respond in an emergency situation or its response will be delayed. ISO studies show that for almost 20 percent of properties nationwide the nearest fire station isn't the responding fire station.