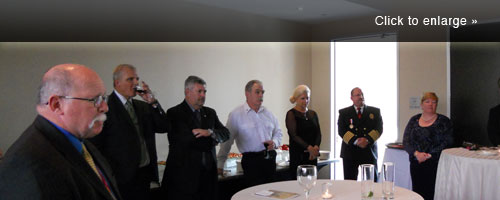 Pictured left to right at the ISO-hosted reception for insurers and fire service officials are Butch Cobb, ISO's national director, Community Hazard Mitigation; Jeff Johnson, past president, International Association of Fire Chiefs (IAFC) and CEO, Western Fire Chiefs Association; Mark Light, CEO, IAFC; Jack Parow, immediate past president, IAFC; Pam Magnani, director of conferences and education, IAFC; Jerry Rhodes, chief of Cunningham Fire Protection District, Colorado, and international director for the Missouri Valley Division, IAFC; and Courtney Bulger, assistant director of member services and corporate relations, IAFC.
On April 25 and 26, 2012, the Congressional Fire Services Institute (CFSI) hosted the 24th Annual National Fire and Emergency Services Dinner and Seminars in Washington, D.C. — where fire service leaders met with congressional officials to discuss federal programs and legislation for first responders.
ISO also hosted a reception for fire service leaders and some of its top insurer customers, including Nationwide and Allstate. "Bringing together the fire service and insurance professionals at an event like this demonstrates our commitment to public fire protection," says Bob Andrews, vice president, ISO Community Hazard Mitigation. "The ISO-hosted reception offered an ideal opportunity to discuss how ISO's Public Protection Classification (PPC®) program and other ISO resources assist the fire service and communities in meeting the challenge of saving lives and reducing property loss. Fire chiefs use the PPC program to budget for and justify improvements in their level of fire protection."
"The event made me realize how ISO's vast resources help fire departments through the PPC program," said one top insurer. "When communities improve their PPC, they have lower fire losses. PPC information also helps insurers price policies, differentiate risk by community, and identify opportunities for writing new business."
We explained how we maintain the quality of our fire protection data through several methods:
ongoing contact with community officials through field verification visits
verifying changes in fire station locations, installation and extension of hydrants and water systems, and emergency communications infrastructure
refreshing the LOCATION® PPC database with more than 1,600 geographic updates monthly
Throughout the two-day program, CFSI hosted seminars on interoperable communications, automatic fire sprinklers, health and safety, pending federal legislation, and more. Fire service leaders had the opportunity to meet with members of Congress and discuss fire service legislation and how the government can support fire and emergency services. The event also gave ISO's insurer attendees an inside look at what our nation's fire service leaders are doing to help reduce fire and property losses.
Another bonus was ISO's attendance at the CFSI National Advisory Committee meeting. Andrews, along with Butch Cobb, ISO's national director of Community Hazard Mitigation, and Skip Gibson, manager of Community Hazard Mitigation, participated in this semiannual meeting. The committee includes more than 40 trade groups, representing a variety of organizations, such as the National Fire Protection Association (NFPA), the International Association of Fire Chiefs (IAFC), the American Fire Sprinkler Association, and the National Institute of Standards and Testing. "We discussed various federal issues that affect first responders and how critical it is to get the support of Congress," Cobb said.
"ISO's presence at CSFI activities this week demonstrates its commitment to work with fire and emergency services leaders who support the PPC program and ISO's other activities," IAFC President Al Gillespie commented.