Ron Bateman
ISO Senior Field Representative
Deputy Chief of Operations, Volusia County Department of Fire Services (retired)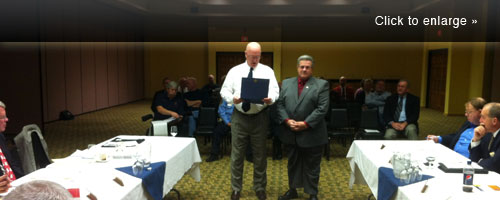 West Virginia State Fire Marshal Sterling Lewis Jr. (on the left) reading Ron's proclamation.
Before joining ISO, Ron Bateman was with the Volusia County (West Virginia) Department of Fire Services for 27 years, serving the first 2 years as a volunteer and the last 25 as a career officer. During his tenure, Ron was the county fire marshal for 12 years and one of the initial members on the countywide arson task force. He retired as the deputy chief in charge of operations in 1999.
Ron's fire service experience was the ideal jumping off point for a career at ISO. He joined the company in 1999 as our West Virginia Public Protection Classification (PPC®) field representative. ISO promoted him to a senior field representative in 2007. During his career, Ron was an integral team member, serving on numerous committees and projects. His fire service experience contributed significantly toward making him a successful field representative.
Even though Ron worked in many surrounding states, he always represented ISO at the bimonthly meeting of the West Virginia State Fire Commission. The Commission's mission is "to provide, through leadership, the best possible Fire Prevention and Life Safety for our citizens by legislation, education, training, standards, and resource allocation." At its December 2011 meeting, the Commission honored Ron with a proclamation for his dedication to the West Virginia Fire Service.
Ron retired at the end of 2011 after a long and productive career. In his retirement, he's looking forward to doing volunteer work and spending more time with his wife and family, especially his two grandsons, whom he loves to tell stories about.