Commercial Building Fire
You face challenging fires all the time. You've received training to assess different types of fires and determine the best firefighting approach. In each issue of Community Fire Protection News, we'll show you a real building fire and ask you to make the call on a number of different measures. Just reply to this e-mail and tell us your answers. We'll include the results in the next issue.
Would a hazardous material (hazmat) unit be required at the scene?
What is the appropriate size hose line needed to attack this fire?
What critical size-up factors would you use to determine an offensive or defensive operation?
What potential collapse indicators are apparent in the photo?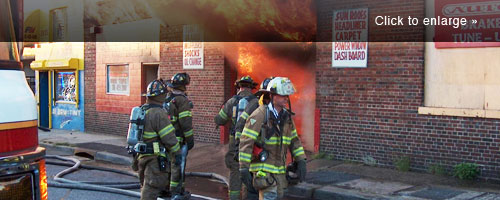 This fire in an older one-story brick attached commercial building poses some common size-up problems.
Results from our Last Issue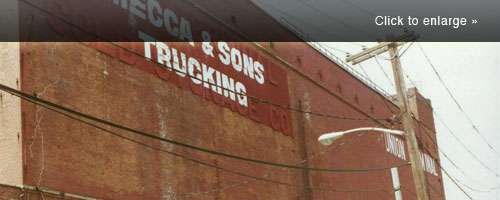 A fire at this commercial warehouse can pose challenges for the fire service.
In our last issue, we showed you the commercial warehouse pictured here and asked you some questions. Here's a summary of responses:
You respond to a report of fire on the top floor of a nine-story commercial warehouse. The warehouse supervisor reports that after evacuating the building, two workers are reported missing on the seventh floor, and there's a medium smoke condition. How would you answer the following questions?
What incident command safety components do you put in place on arrival?
Both exterior and interior division commanders are essential in a large structure. The exterior division leaders need to apprise the interior division leaders of exit locations and obtain blueprints of floor plans if possible. The incident commander should assign interior division leaders to every floor — starting two floors below deteriorating conditions — to ensure accountability on each floor.
Establish a generous collapse zone.
Place a safety officer on each side of the structure.
Follow rigorous enforcement of accountability.
Use sufficient overhead to manage a large number of crews.
What firefighter tools are available to assist with safely conducting a primary search?
thermal imaging camera
ropes and search bag
radios
marking system to identify searched areas
Rapid Intervention Crew (RIC) bag with essentials (such as air, mobilization, and light extrication tools) in case victims are found
the sense to stay out when necessary
Will you need more than one Rapid Intervention Crew (RIC) for this incident?
RIC is a big concern, and I would recommend more than one team. However, with staffing usually limited, focus should be on the appropriate team size. A first quick look at this warehouse would warrant a six- to eight-person RIC crew with all the essential tools for the structure.
Have one RIC for each entrance or potential entrance (probably a very large number).