Verisk Commercial Property held its first-ever Commercial Property Roundtable in Orlando, Florida, in April. The roundtable was a unique interactive forum that gave insurers an opportunity to hear directly from fire professionals and industry experts about emerging issues such as solar power, insulation materials, and increased BTU content. On hand were Operations Division Chief David Rathbun and Training Division Chief Michael Wajada, both of the Orange County Fire Rescue, as well as Chief of Department James E. White of the City of Winter Park's Fire-Rescue Department. They helped shed light on the challenges of lightweight construction from a firefighting perspective. For example, unlike sawn wood, lightweight materials burn and collapse faster than conventional solid wood members. Fire departments routinely implement a defensive rather than offensive firefighting strategy, which is a less successful tactic in putting out a fire.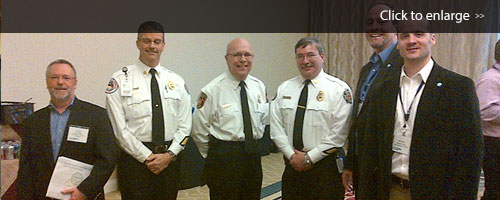 Pictured at the roundtable are Coleman Henry, senior vice president of corporate underwriting, Philadelphia Insurance Company; David Rathbun, operations division chief, Orange County Fire Rescue; James E. White, chief of department, City of Winter Park's Fire-Rescue Department; Michael Wajada, training division chief, Orange County Fire Rescue; Kevin Kuntz, assistant vice president, Verisk Insurance Solutions – Commercial Property; and Dan O'Connor, director of customer partnerships, Verisk Insurance Solutions – Commercial Property.
We discussed "green roofs," also known as vegetated roofs. A well-maintained green roof can reduce the threat of a roof fire since it contains a large amount of aggregate material that doesn't burn. Those materials, such as crushed clay brick and pumice, expanded shale, and live plants, are largely resistant to fire. However, a drainage failure could add to the roof load, and dead plant material can itself become a source of combustion.
Roundtable attendees also talked about new exterior insulation panels made of plastic, such as expanded or extruded polystyrene. Those materials have many advantages: They are lightweight, made of recycled plastic, and have a high R-value (a measure of thermal resistance). However, most expanded plastics are combustible and can burn rapidly. Under fire conditions, those materials tend to melt, forming a flammable liquid.