BuildStrong's National Thought Leaders Forum on Building Codes
Attendees of BuildStrong's National Thought Leaders Forum on Building Codes were surveyed on what they believe best describes why the costs of damage from natural disasters continue to rise every year. Fifty percent responded that it's because development occurs without regard to natural disasters or enhanced codes and standards; another 20 percent indicated that a lack of enforceable building codes and standards in many states and localities was to blame for rising costs. Those responses highlight what many industry professionals believe: Establishing and enforcing stronger building codes would help improve community emergency preparedness.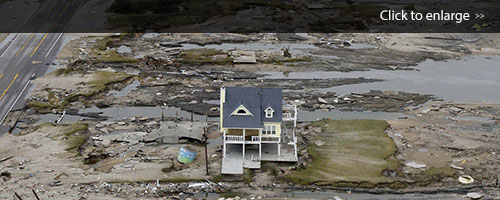 The aftermath of a hurricane shows only one home left standing on a devastated barrier island. The home was built to withstand the high natural hazard potential in the region — with dramatic positive results.
And so the stage was set when several ISO Commercial Property personnel participated in BuildStrong's National Thought Leaders Forum on Building Codes on May 9, held in conjunction with the 25th Annual National Fire and Emergency Services Dinner and Seminars.
BuildStrong is a coalition of national business and consumer organizations, companies, and emergency management officials dedicated to promoting stronger building codes. The BuildStrong Coalition urges enactment of the Safe Building Code Incentive Act. The legislation would encourage states to adopt model building codes to protect property and ultimately save lives from the devastation of natural disasters.
The distinguished group of professionals included congressional members, insurers, the Deputy U.S. Fire Administrator, registered design professionals from the American Society of Civil Engineers (ASCE) and the American Institute of Architects (AIA), and a host of other building construction and mitigation experts. The forum included lively discussions related to the importance and cost benefit of adopting and enforcing building codes.
The recurring theme of the day was that adopting building codes is the starting point for mitigating damages. Well-trained and adequately staffed enforcement departments are required to maximize the potential benefit of building codes.
Through our Building Code Effectiveness Grading Schedule (BCEGS®) program, ISO has been collecting and databasing information about code adoption and enforcement efforts across the country since 1995. That effort can provide insight to insurers looking to use the benefits of building code adoption and enforcement in their underwriting process.