ON THE JOB
Hugh "Skip" Gibson
Manager, ISO Community Hazard Mitigation
Chief Fire Marshal, Cherry Hill (N.J.) Fire Department (retired)
Fire Commissioner, Cherry Hill Fire District Board of Fire Commissioners (current)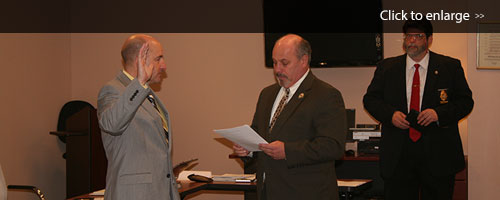 Skip Gibson at his swearing-in ceremony for the Cherry Hill Fire District Board of Fire Commissioners, with Cherry Hill Township Councilman Jim Bannar, a fellow retired firefighter.
Skip has been with ISO for seven years. His responsibilities include liaison to national and state fire service associations and conference outreach. He's a frequent speaker and presenter of ISO educational programs to associations and communities. He also manages the ISO Public Protection Classification (PPC®) program in 13 states in the Northeast and Mid-Atlantic region and the state of Michigan. That entails supervising the 21 field representatives who cover those states.
Before joining ISO, Skip had a 30-year fire service career with the Cherry Hill, New Jersey, Fire Department, first as a volunteer at Erlton and Cherry Hill No. 5 Fire Companies and then as a career staffer. After retiring as the chief fire marshal, he oversaw the Fire Science Program at Camden County College. During Skip's fire service career, he was part of the original command staff in Cherry Hill that consolidated seven fire districts in 1994. As chief fire marshal, he was responsible for all aspects of community risk reduction, which included administration of the New Jersey Uniformed Fire Code, public education, and fire investigations. Very early as a volunteer, he was on the first engine that responded to the Garden State Park racetrack fire.
A look back
It was April 14, 1977, at 4:24 p.m. when the tones went out for a building fire at the racetrack. Veteran Erlton firefighters had indoctrinated every new member in the dangers of that enormous structure should a fire ever develop. The Garden State Park racetrack, constructed during World War II when steel was unavailable, used cast iron columns and heavy timber. At 1,500 feet wide and 90 feet high, the grandstand/clubhouse had a common cockloft spanning the entire width but didn't have a sprinkler system. If a fire occurred there, everyone thought it would be in the middle of the night when the structure was unoccupied. It was a spring day as Skip responded down Route 70 on Engine 13-23 with the rest of the crew of seven. As Skip looked ahead, he could see the grandstand and heavy smoke coming from under the roof. As firefighters made their way to the clubhouse, it was sheer chaos. Betters were still trying to cash in their winning tickets, and jockeys were throwing their saddles out upper windows as 10,000 spectators started fleeing. There were numerous heroic rescues. Unfortunately, two people perished in the building, and a fire police captain died of a heart attack.
This past February, Skip was fortunate to win election to the Cherry Hill Fire District Board of Fire Commissioners. He was sworn in for a three-year term in March. As one of five fire commissioners, Skip works with his fellow board members to oversee the fire protection and emergency medical services provided to Cherry Hill.