On May 8–9, 2013, the Congressional Fire Services Institute (CFSI) hosted the 25th Annual National Fire and Emergency Services Dinner and Seminars in Washington, D.C. Fire service leaders met with congressional officials to discuss federal programs and legislation for first responders.
ISO staff members attended and participated in several of the informative CFSI seminars, including:
Public Safety Communications: The First Responder Network Authority (FirstNet), moderated by Giff Swayne, CFSI Board of Directors, and Chief Jeff Johnson, International Association of Fire Chiefs/FirstNet Board
The Changing Severity of Home Fires, moderated by Jim Dalton, National Fire Sprinkler Association, with panelists Steve Kerber, Underwriters Laboratories, and Dan Madrzykowski, National Institute of Standards and Technology
The Congressional Fire Services Institute National Advisory Committee meeting took place during the week, and ISO's representatives on the committee, Butch Cobb and Skip Gibson, participated in discussions concerning issues affecting the national fire service.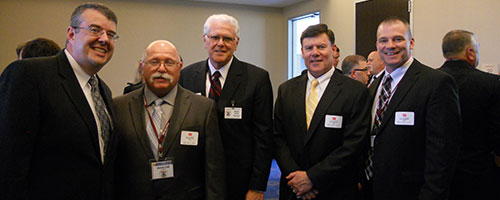 Pictured at the conference are Thomas L. LaBelle, executive director, New York State Association of Fire Chiefs; Butch Cobb, national director, ISO Community Hazard Mitigation; Dr. Denis Onieal, superintendant, National Fire Academy; Bill Raichle, president, Verisk Insurance Solutions – Commercial Property; and Bob Andrews, vice president, ISO Community Hazard Mitigation.