In our last newsletter, we announced the filing of our revised Fire Suppression Rating Schedule (FSRS), with changes effective for community grading surveys initiated on or after July 1, 2013. We noted that the 2013 edition of the FSRS includes a new Community Risk Reduction section that recognizes community efforts to reduce losses through fire prevention, public fire safety education, and fire investigation. This article gives you additional details on those important changes.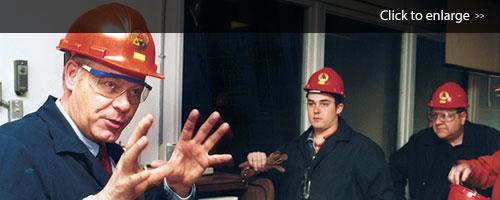 A fire chief conducts community risk reduction training.
According to statistics from the National Fire Protection Association (NFPA), there were 1,389,500 fires reported in the United States in 2011. The fires resulted in 3,005 civilian deaths, 17,500 civilian injuries, and $11.7 billion in property damage. It's not an exaggeration to say that most of those fires were preventable. The U.S. Fire Administration's January 2013 report estimated that 164,500 cooking fires occur in residential buildings each year in the United States. In 2011, U.S. fire departments responded to an estimated 6,700 home structure fires started by someone, usually a child, playing with fire. Whenever people contribute to a known problem to such an extent, there must be solutions — both behavioral and engineered — to mitigate the problem. We've made an effort to identify such solutions.
During the FSRS revision process, ISO met with representatives from the NFPA and the International Code Council (ICC). Those organizations were consistent in their message that fire prevention, public fire safety education, and fire investigation measures are the best course for reducing the incidence and severity of fires. We listened to that advice and added a Community Risk Reduction section to the FSRS.
Here's an outline of the new Community Risk Reduction items:
Fire prevention code adoption and enforcement
This section assesses the fire prevention code adoption and enforcement capabilities of a community and is based on:
adoption and maintenance of one of the model fire prevention codes
the number and qualifications of fire prevention personnel, including certification and continuing education
activities of fire prevention programs, including plan review, certificate of occupancy inspections, quality control, code compliance, inspection of private fire protection equipment, and coordination with fire department training and pre-incident planning
adoption and enforcement of related fire prevention ordinances, including fire lanes, fireworks, hazardous material routes, trash and weeds, and wildland-urban interface (WUI)
We reference NFPA 1 Fire Code and ICC International Fire Code as appropriate model codes. Full credit for adoption of codes is available if the community has adopted the latest edition. Lesser credit will be available for earlier versions. Local or statewide codes can be credited if they meet the general criteria of the model codes.
The section specifies that you need sufficient fire prevention inspectors to perform fire prevention inspections on all nonresidential structures at least once a year for full credit. We consider state or county fire prevention inspectors as well as fire suppression personnel who perform in-service fire prevention inspections to be fire prevention inspectors.
Public fire safety education
This section appraises the public fire safety education capabilities of a community and is based on:
the existence of a fire safety education program
qualifications and training/certifications of public fire safety educators
activities of the various public fire safety education programs, including residential fire safety programs, fire safety education in schools, juvenile fire-setter education programs, and fire safety education in occupancies with significant loss potential or hazardous conditions
Fire investigation
This section examines the fire investigation activities of a community and is based on:
establishment of authority to conduct and enforce fire investigations
the number and qualifications of fire investigators
activities of the fire investigation staff
participation in the National Fire Incident Reporting System
For a community to receive full credit, the number of fire investigators must be sufficient to investigate all structure fires and may include fire investigators with authority from the state fire marshal's office or the county or other civil jurisdiction.
Credit for use of the National Fire Incident Reporting System is based on satisfactory reporting for the three years before an evaluation.
We all remember fire drills in schools while growing up, but that may be our only concept of fire prevention activities. As discussed, there's much more to insulating communities properly from the ravages of fire. Our hope is that the introduction of the Community Risk Reduction section in the FSRS will result in additional emphasis on preventive measures and give incentives to communities that strive to reduce fire severity proactively through a structured program of fire prevention activities.
As of July 9, 40 states have approved the revised FSRS. We expect to get approval from the six pending states soon.