ISO, which maintains the only national fire hydrant database in the United States, has identified and recorded the six millionth fire hydrant in the country.
As of February 2013, ISO has identified and added to its GIS database 6,042,683 fire hydrants and other static water supply sources, reflecting both new installations and those previously unreported or recently evaluated by field inspection. Rather than rely on estimates based on municipal standards for the number of hydrants in a given community, the company identifies precise locations and functionality of every fire hydrant. The evaluation is part of ISO's Public Protection Classification (PPC®) program, which analyzes the quality of fire protection in thousands of communities around the nation, benefiting both community officials and insurers.
"We determined that nearly 10 percent — or 3,118 of the 32,292 unique water supply systems in place to support more than 6 million fire hydrants — don't meet our minimum criteria for effective fire protection purposes," said Bill Raichle, president of Verisk Insurance Solutions – Commercial Property, which collects the data directly from communities throughout the United States.
PPC classifies every community by assigning a grading from 1 through 10, with 1 being the best. To receive a Class 8 designation or better, the water supply system must be able to deliver at least 250 gallons per minute for a period of two hours. That flow is in addition to the community's maximum daily rate of consumption for purposes other than firefighting. The grading takes into account water pressure, consistency of water flow, and impact on the hydrant during times of high water demand in other parts of the system, such as a system's ability to handle two fires simultaneously.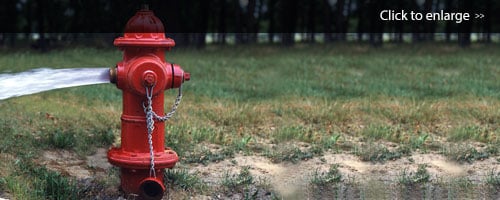 In addition to hydrants, ISO tracks alternative water systems, for example, where tankers are used to truck water to fire scenes. Currently, ISO recognizes such water systems for public protection purposes in 3,114 communities throughout the country.
ISO also maintains detailed information on 53,576 fire stations, each of which has been field-inspected by ISO and rated for its ability to mitigate structure fires in its respective community. ISO identifies which fire stations serve every residential and commercial address in the nation. Of those fire stations, 1,496 were determined to be lacking in one or more criteria, including 24/7 operation, sufficient staffing and/or training, immediate alarm notification, or appropriate fire response vehicles, among others.
"It's critical to be able to enter an address and know which fire stations are the 24/7 first responders," noted Raichle. "For approximately 20 percent of the U.S. population, the closest fire station is not the one designated to respond to those homes or businesses; and about 3 percent of the fire stations in the country cannot successfully engage a structure fire 24/7. That's a huge margin of error for anyone who relies solely on fire station location."
ISO's staff of more than 150 community field representatives maintains information about public fire protection and compiles and electronically maps the exact positions of fire stations, sources of water, and fire protection area boundaries. Insurers that write more than 85 percent of property insurance in the United States license ISO's data, which contains every address in the country. Insurance companies, local fire departments, and municipalities in all 50 states rely on the information in the PPC program.
"ISO performs PPC evaluations for the property insurance industry, and we consider the process and outcome of the PPC evaluation as a proprietary work product," Raichle explained. "Communities provide sensitive information concerning their fire suppression capabilities to ISO in trust, and we take our responsibility to secure this data very seriously. Some of the information provided to us has potential security implications; as such, ISO doesn't provide community-specific data in a public forum."