Laurie Donis
Fire Chief, City of Longwood (Florida) Fire/Rescue Department (retired)
Field Representative, Verisk Commercial Property (current)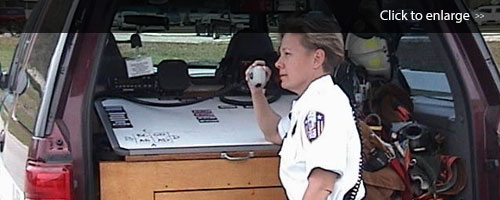 Laurie Donis joins ISO after a 26-year career of firefighting in Florida.
Following a fulfilling 26-year career with the City of Longwood Fire/Rescue Department in Florida, retired Fire Chief Laurie Donis moved her family to California. While managing a growing family, she completed her master's degree and began working as a field representative with ISO in August 2012.
Laurie's passion for community service started when she began taking law enforcement classes at a local community college in Florida. Ride-along experiences with law enforcement friends brought her to structure fires, which fanned the flame of her interest in the fire service. EMT classes were the next natural step for Laurie, and she quickly found herself volunteering at Longwood Fire/Rescue. Upon completion of paramedic school and the fire academy, Laurie interviewed with the Longwood Fire/Rescue fire chief. He asked her where she saw herself ten years. As one of the more interesting responses he received from that question, Laurie promptly informed him she would be sitting in his seat.
Laurie is a graduate of the National Fire Academy Executive Fire Officer Program. She is a certified Chief Fire Officer and Chief Medical Officer by the Commission on Professional Credentialing. Laurie has held numerous positions in firefighting. She is a recipient of an IAFC Foundation scholarship and a Yvorra Leadership Development Foundation scholarship. She has served FEMA as an evaluator for its Grant Assistance to Firefighters Program. Laurie has published articles in fire service magazines and instructed sessions at national and regional fire service conferences.
As fire chief and president of the Women Chief Fire Officers' Association, Laurie strove to bring distinction and professionalism to her supervisors and subordinates and to inspire her firefighters by cultivating a shared vision of each member department's future opportunities and challenges. As a fire chief, Laurie promoted her department's community involvement by being proactive in fire safety and public education and encouraging the education and safety of fire service personnel.
Laurie has a lifelong commitment to education. She has attained the following degrees and certifications from accredited institutions:
master of public administration with a concentration in emergency management
bachelor of science in fire administration
associate of science in fire service technology
executive fire officer graduate, National Fire Academy
paramedic certification, Florida
emergency medical technician, Florida
law enforcement officer, Florida
criminal justice instructor, Florida
arson investigator, Florida
basic firefighter instructor, Florida
fire safety inspector, Florida
fire officer I, Florida
Laurie is grateful for the successes in her career, having found great purpose in pursuit of a noble calling in the fire service. Her thriving young family fills her life with meaningful daily blessings and joy. She now anticipates a long and successful career with ISO.