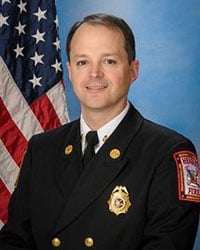 The Henrico County Division of Fire is a rare fire service, having attained two prestigious distinctions. First, it's an internationally accredited fire department, achieving that status in 1998 from the Commission on Fire Accreditation International (CFAI) and reaccredited in 2013. Second, in 2015, the division earned the highest possible rating from ISO's Public Protection Classification (PPC®) program, making it an ISO Class 1 community.
Protects population of more than 300,000
The division serves the County of Henrico, Virginia, located north of the City of Richmond. It covers approximately 244 square miles, protects a population of more than 300,000 (which can double during special events), and responds to more than 40,000 calls for service annually. All field personnel are state-certified firefighters and Emergency Medical Technicians (EMT).
The division is commanded by Chief Anthony McDowell, a firefighter of extensive experience, training, and knowledge. Chief McDowell began his fire service career as a volunteer in 1987, served on the staff of the International Association of Fire Chiefs (IAFC) from 1992 to 1994, and was a budget and management analyst for Chesterfield County, Virginia, from 1995 to 1997. He joined Henrico Fire as a firefighter in 1997 and worked through the ranks to be sworn in as fire chief in 2012.
Chief McDowell has a bachelor's degree from Virginia Tech and a master of public administration degree from the University of North Texas. He's certified as an Executive Fire Officer (EFO) by the U.S. Fire Administration and as a Chief Fire Officer (CFO) from the Center for Public Safety Excellence. He serves as an Accreditation Peer Assessor. In 2013, the governor of Virginia appointed him to the Virginia E-911 Services Board. He's a graduate of both the Henrico County Leadership Development Program and Leadership Metro Richmond's regional program.
In 2015, Chief McDowell was the Southeastern Association of Fire Chiefs' Career Fire Chief of the Year. He currently serves as president of the Virginia Fire Chiefs Association and is a member of the IAFC. With such a distinguished background and list of achievements, Community Fire Protection News (CFP) asked Chief McDowell to share some of his insights.
CFP: Henrico County Division of Fire is both an internationally accredited agency and an ISO Class 1 community. What are the key factors that agencies must understand to accomplish both?
Chief McDowell: Whether a fire department seeks accreditation or a better ISO rating, it must build a foundation on the concept of continuous improvement. That requires performing an assessment of the risks and vulnerabilities in the community, determining the standards of response performance to mitigate those risks, and measuring performance in an ongoing manner to ensure those standards are being met. For Henrico County, achieving international accreditation and the Class 1 rating have been direct outcomes of having an elected Board of Supervisors that values public safety as a key priority.
CFP: Being a data-driven organization, what programs and initiatives have been developed based on what you're learning through data analysis?
McDowell: One example of how the risk and data analysis mindset has made a difference is with our new smoke alarm program. By focusing on properties with the highest known risk factors, we've been 89 percent accurate in predicting which homes won't have a working smoke alarm. Because of this program, in the last year we've installed smoke alarms in nearly 2,000 homes that didn't have a working detector. The homes are registered in a database so we can follow up on them in the future.
CFP: What unique challenges does your division have in respect to providing a safe community?
McDowell: Our firefighters are being called to respond to an ever-increasing range of "all hazards" risks. Within this portfolio of services, EMS workload is a huge challenge, especially with much of the 9-1-1 call volume comprising what are often nonemergency, low-acuity medical issues—cases that would be more appropriately classified as primary healthcare needs. Also, we have a younger workforce that isn't responding to as many fires as in the past, but the fires that do occur burn hotter and faster and present unique hazards. That requires us to carefully define and prioritize core roles and services in a way that makes sure we're properly positioned, effectively trained, and ready to roll when a life-threatening emergency exists.
CFP: What new challenges do you see in the future for emergency services to address?
McDowell: Virginia uses a statewide building code, and local amendments aren't permissible. While Virginia adopts the ICC (International Code Council) model building code, certain aspects of the model code, including residential sprinklers, haven't been adopted at the state level. With changes in construction practices and the materials used in furnishing homes, we're seeing residential fires that burn much faster than in the past, leading to more dangerous conditions and increased risk of loss. Although we've seen a consistent decrease in the number of residential fires, civilian fire injuries, deaths, and property losses are trending in the wrong direction—up! That's not unique to our community but seems to be occurring throughout the state and nationally.
CFP: What is your division doing to address the known risk of cancer in the fire service?
McDowell: For years we've attempted to stay in front of the issue. We've institutionalized the use of SCBA (self-contained breathing apparatus) on all fires to where it's a reflex for our personnel, and we've used source capture technology for all diesel-powered apparatus for more than ten years. Our occupational health program is modeled after the IAFF-IAFC Wellness/Fitness initiative and includes annual physicals, fitness assessments, work performance evaluations, access to nutritional programs, and physical fitness coaching. We're three years into a five-year plan to outfit all personnel with two sets of PPE (personal protective equipment), and all our new firehouses are designed with an eye toward preventing cross contamination. These things pertain to technical solutions, but prevention of cancer also calls for changes in some of our long-held behaviors and attitudes. To advocate for behavioral changes, we incorporate cancer risk reduction behavioral expectations into our leadership training and promotional assessment process.
CFP: How do you see your department evolving in the future?
McDowell: There's a change in the workforce that's already begun and will accelerate. We've raised the bar in terms of the qualifications and characteristics we seek in entry-level firefighters. As a result, we see a more diverse workforce entering the department. The diversity spans the gamut: life experiences, occupational/vocational skills, education, military service, gender, race, national origin, and so on. Our newest employees are great examples of what's best in the American fire service tradition. They're smart, motivated, dedicated, visionary, and don't take no for an answer. They push us leaders to evolve and improve in every way possible. With this kind of talent in the organization, our future looks very bright.
CFP: What has been the proudest moment of your career?
McDowell: Each time we pin a badge on a new firefighter or newly promoted fire officer.
CFP: What advice would you give to a new fire chief?
McDowell: Listen, listen, and listen! Do a full 360-degree evaluation on every issue before you pull the trigger. Your deputy chiefs and battalion chiefs will attempt to handle issues and protect you. While this is necessary and can be a blessing, it can also be a curse if you fail to connect with the troops at every opportunity. Finally, stay balanced. You must invest in your relationship with God, family, friends, and your physical and mental health.