Can you minimize the spread of fire in high-rise buildings? What's the best way to evacuate hundreds or thousands of occupants? How can engineers design high-rise structures to maximize safety? Should firefighters use elevators?
ISO is a contributing sponsor of a new study funded by the U.S. Department of Homeland Security (DHS) and the Federal Emergency Management Agency (FEMA) that hopes to provide answers to those questions and enhance the understanding of risks involved with fighting high-rise fires. The study will also look at the effectiveness of existing methods for responding to such emergencies and evaluate new approaches to building design that could make high-rise firefighting more effective — saving lives and reducing property damage.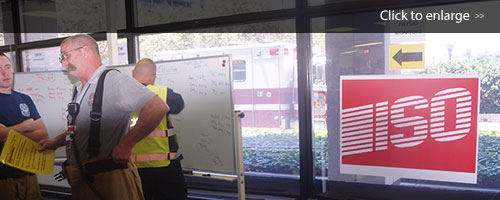 As a contributing sponsor, ISO was in attendance at the National High-Rise Study field experiment site in Arlington, Virginia. Pictured here are just a few of the approximately 100 firefighters at the site.
The study is the most comprehensive ever undertaken on high-rise fire safety, building design, and resource deployment. Real firefighters will deploy to simulated multi-alarm fires in high-rise buildings in urban areas. The crews will provide data on completing tasks on the fireground, and the study will evaluate crew size, apparatus configurations, the benefits of using elevators, and deployment.
The Department of Fire Protection Engineering (FPE) at Worcester Polytechnic Institute (WPI), the Center for Public Safety Excellence (CPSE), the International Association of Fire Fighters (IAFF), the National Institute of Standards and Technology (NIST), and the Urban Institute (UI) lead the study. ISO became a contributing sponsor working with those organizations early in 2011. Our contributions to date have included assisting WPI with locating a vacant high-rise building to conduct field experiments; serving as subject matter experts with the assistance of Butch Cobb, ISO's national director of Community Hazard Mitigation; and providing a comprehensive Building Underwriting Report for the chosen building. Verisk's Building Underwriting Report gives insurers extensive information on the construction, occupancy, hazards, fire protection, and wind exposure of the building. The report provides the details insurers need to make accurate and cost-effective underwriting decisions and help them give their insureds recommendations for reducing hazards and improving protection deficiencies at the property.
"A high-rise fire is one of the most challenging and hazardous situations firefighters face," said Kathy Notarianni, professor and head of the FPE Department at WPI. "Unfortunately, fire codes provide little guidance on how to respond to fires in tall buildings, and fire and city officials have little or no quantitative data to draw on as they evaluate various deployment configurations or building code changes that could make high-rise firefighting safer. This study will provide the data, analysis, and guidance they need."
"We've seen the impact of our work grow in recent years," said Notarianni. "Fire departments in large cities and metropolitan areas as well as those in smaller communities are quicker to adopt innovations and new ideas with the publication of these national studies and the increasing confidence in this national partnership."