In the Insurers' Report column, we'll be discussing some common questions we get from insurers. If you have a question you'd like answered, e-mail us. Keep your eye on future issues for your question (and our answer).
Why is identifying the "nearest fire station" insufficient to meet the needs of property insurers?
In a fire chiefs opinion survey conducted by Opinion Research Corporation and commissioned by ISO, one-third of chiefs (33 percent) reported that their response areas have populated sections closer to a fire station in a neighboring fire district than to any station in their own district. Thirty-nine percent of the surveyed chiefs said the closer neighboring fire station does NOT respond on automatic aid to fires in their district. Knowing the distance from a nearby fire station to an insured property doesn't provide insurers with enough information to assess potential loss.
Just identifying the closest fire station doesn't tell the whole story.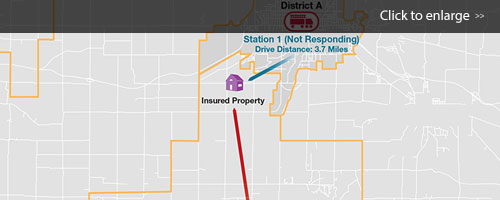 Although the insured property is less than four miles from a fire station, the responding fire station is nine miles away. Our LOCATION database has countrywide information about the nearest recognized and responding fire stations.
For their rating and underwriting programs, most insurers need to know the distance from the nearest responding fire station to the residential or commercial property in question. Other critical details about the fire department include response boundaries, type of apparatus and equipment, staffing, structural firefighting training, and automatic aid. The exact placement of the fire station is crucial to understanding the level of protection at a specific property. To underwrite and price a property accurately, you need data about effective response, exact location of fire stations, and where the stations respond.
ISO and Verisk now have the most accurate and comprehensive geographic information system (GIS) database of fire stations in the country — Verisk's LOCATION® database. Field representatives recently undertook a comprehensive program to gather specific information about fire stations from physical visits and record the "rooftop placement" of each station. The project reinforced the dynamic nature of fire protection. We updated our database, removing stations no longer in operation and adding 2,700 new stations. To date, the project has validated and verified the exact locations of more than 51,600 fire station structures in the country.
The exterior of a fire station is not an indication of a fire department's capabilities. ISO has found more than 1,400 fire stations across the nation that lack the staffing, training, equipment, and apparatus needed to initiate a first-alarm response to a structure fire. The Fire Suppression Rating Schedule measures the major elements of a community's fire suppression program and develops a numerical grading called a Public Protection Classification (PPC®). Those 1,400 unrecognized fire stations receive a PPC of 10, indicating that the community's fire suppression program doesn't meet ISO's minimum FSRS criteria.
Knowing the nearest recognized and responding fire station can help you assess potential loss more accurately.