National Water Resources Manager, ISO Community Hazard Mitigation
Deputy Chief, North Plainfield (N.J.) Fire Department (retired)
Before joining ISO in 2001, Anthony Zampella served with the North Plainfield, New Jersey, Fire Department for 25 years and retired as deputy fire chief in charge of all fire and EMS operations. During his distinguished fire service career, he earned degrees in both applied science and fire science. His studies included water distribution systems and hydraulics for the fire service.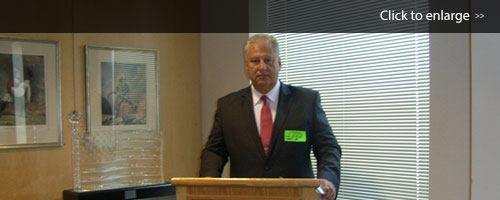 Tony Zampella at New York City Fire Department headquarters giving a presentation to FDNY Fire Commissioner Sal Cassano and his senior staff about ISO's PPC evaluation.
Tony began his ISO career as a Survey Services field representative covering New York City and Jersey City. He transferred to the position of Public Protection Classification (PPC®) field representative in 2006 and received a promotion to senior field representative in 2011. He excelled in productivity, quality, and special projects. During that time period, Tony also found mentoring new PPC employees very rewarding.
Tony distinguished himself as the project leader for the PPC grading of New York City, the largest fire department in the country. The grading project included collecting data on 218 fire stations, more than 400 fire apparatus, and 11,000 fire personnel. It also entailed evaluating a 1-billion-gallon-per-day water system for more than 8 million city residents. Tony completed grading projects for other major cities, including Philadelphia, Pennsylvania, and Newark and Atlantic City, New Jersey.
Tony recently received a promotion to national water resources manager. As the ISO liaison to all major water providers, he will assess the adequacy of water supply facilities and determine avenues to apply that information efficiently to ISO's Fire Suppression Rating Schedule, the manual ISO uses in evaluating the major elements of a community's fire suppression system. Tony looks forward to meeting water officials throughout the country in our ongoing efforts to collect water supply data and maintain the only national database of recognized hydrants and alternative sources of water for firefighting. By maintaining and evaluating this data, ISO provides crucial information for understanding the entire landscape of risk for specific properties and communities.