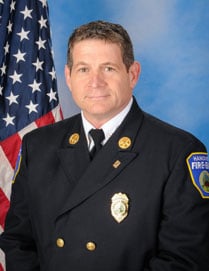 Chief Eddie Buchanan, Division Chief, Hanover (Virginia) Fire & EMS

Recently, Tom Weber, national director of Community Hazard Mitigation for Verisk Insurance Solutions – Commercial Property, interviewed Chief Eddie Buchanan, division chief, Hanover (Virginia) Fire & EMS. They talked about recent modifications in fire attack. Community Fire Protection News was pleased to be there as the two chiefs discussed one of the more significant changes in the fire service in years.
Tom Weber: There has been quite a bit of buzz surrounding new fire tactics. First, why have these changes become necessary?
Eddie Buchanan: The current tactics are no longer working. Essentially, traditional materials and construction led to the development of a conventional firefighting approach that worked for decades. That approach, called RECEO-VS (rescue, exposure, confine, extinguish, overhaul, ventilate, salvage), has been in continual use since the 1950s. It's a sequential order of rescue and confinement that also relies on a ventilation strategy.
The research done at the National Institute of Standards and Technology (NIST) and UL on fire dynamics revealed that the old methods aren't effective with new construction. They identified specific factors feeding and accelerating fires today. Open floor plans, vaulted ceilings, new construction materials, and the high synthetic content of modern furnishings spread a fire through unimpeded ceiling joists and create more dangerous and volatile gases. It's a new scenario that needed a new tactic.
RECEO-VS works fine for a legacy fuel fire but not for the challenges we're facing with modern fuels and new construction. Those new challenges look to science for answers.
Weber: So, the science was there, but what did you do with it?
Buchanan: In all honesty, I wasn't a fan at first. But I couldn't argue with the science. The challenge was creating a practical application for firefighting based on the scientific research that pointed in a different direction than previously thought. The result was a revolution in firefighting called SLICE-RS, which stands for Size-up, Locate the fire, Isolate the flow path, Cool from a safe distance, Extinguish, Rescue and Salvage at any time in the process.
SLICE-RS starts with an initial 360 walk-around to identify the superheated locations with a thermal imaging camera (TIC). After that assessment, we develop a strategy that controls the flow path; then we cool and extinguish with water from a safe distance. We rescue at the first available opportunity.
Weber: ISO's Fire Suppression Rating Schedule (FSRS) revisions — which went into effect July 2014, and are the foundation of the Public Protection Classifications (PPC®) — are compatible with both RECEO-VS and SLICE-RS approaches. And ISO Community Hazard Mitigation works closely with the fire service on promoting best practices in fire prevention and firefighting. How important is it to have additional support for new firefighting tactics?
Buchanan: Efforts such as those are critical going forward. Our challenge now is getting states to incorporate SLICE-RS into fire basics classes, textbooks, and training. This is an instance where the fire service is ahead of the curve. Textbooks are out of date, and that's creating a tactical disconnect. Firefighters are being taught one thing, then essentially retrained in another in order to face the real-world fires of today.