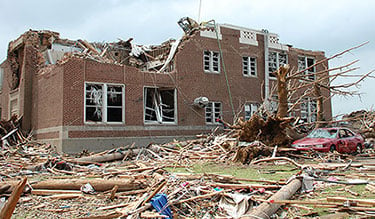 An assessment of last summer's earthquake in Napa, California, from AIR Worldwide, a Verisk Analytics business, really hit home for me.
"In general," the report states, "the observed ground motions were below design code levels extant in California today. Not surprisingly, therefore, the most significant damage that the AIR damage survey team observed was to older, unreinforced masonry (URM) buildings — specifically to their walls, chimneys, parapets, and foundations. Structural damage to newer construction was generally limited. Most of the damage and losses will be driven by commercial properties and contents."
It may seem straightforward, but to me, it goes right to the core of what ISO Community Hazard Mitigation does. We manage the Building Code Effectiveness Grading Schedule (BCEGS®) program, and one of our main goals is to help prevent damage due to earthquakes, wind, and other natural catastrophes.
Our mantra is simple: Municipalities with well-enforced, up-to-date building codes will demonstrate better loss experience when an event occurs, and insurance rates can reflect that. There are nearly 20,000 building department jurisdictions in the nation; and we assess almost all of them. Through BCEGS, we evaluate their current codes and code enforcement efforts and assign each municipality a BCEGS grade from 1 (exemplary commitment to building code enforcement) to 10.
Insurers that use BCEGS can more accurately assign risk to individual properties and communities. The prospect of lessening catastrophe-related damage and ultimately lowering insurance costs provides an incentive for communities to enforce building codes rigorously — especially as they relate to windstorm and earthquake damage.
So, when I read that damage was contained to "older, unreinforced masonry buildings" and "damage to newer construction was generally limited," I had mixed emotions. New construction generally performed as we would hope, and older buildings not built to current codes didn't hold up nearly as well. The report proved our mantra true — but considering the hardships involved, it's not always fun to be right.