An interview with FLASH President and CEO Leslie Chapman-Henderson

The Federal Alliance for Safe Homes (FLASH®) is the country's leading consumer advocate for strengthening homes and safeguarding families from natural and man-made disasters. FLASH collaborates with more than 100 innovative and diverse partners that share its vision of making America a more disaster-resistant nation, including the Federal Emergency Management Agency (FEMA), the Florida Division of Emergency Management, the International Code Council (ICC), the National Oceanic and Atmospheric Administration (NOAA), and the National Weather Service (NWS). Community Fire Protection News spoke with FLASH President and CEO Leslie Chapman-Henderson to learn more about FLASH and its efforts.
In addition to her long years with FLASH, Chapman-Henderson has served as co-chair of the My Safe Florida Home Advisory Council, board trustee for Florida International University–International Hurricane Research Center, Advisory Council member for the Florida State University Catastrophic Storm Risk Management Center, and many other positions. She was a guest lecturer at Florida State University and the University of Florida–School of Construction, and she has worked with many task forces and reform committees for the insurance industry.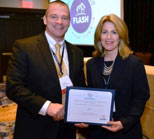 Community Fire Protection News (CFP): For any of our readers who might not know, can you explain what FLASH is and describe its mission?
Leslie Chapman-Henderson (LCH): The Federal Alliance for Safe Homes is a nonprofit organization established in 1998 after Hurricane Andrew struck Florida. Today, it's the country's leading consumer advocate for strengthening homes and safeguarding families from natural and man-made disasters. Our mission is to promote life safety, property protection, and resilience by empowering communities with knowledge and resources to make homes and families as safe as possible from all disasters.
FLASH has three core values:
Innovation — We design and develop effective, easy-to-use tools and techniques to foster mitigation behavior change.
Integrity — FLASH delivers consistently reliable, useful, and technically accurate information and services.
Collaboration — We forge strategic partnerships with like-minded individuals and organizations that share a commitment to the disaster safety movement.
On May 15, The Weather Channel dedicated an episode of its popular show Weather Geeks to the "Story of FLASH." Hosted by Dr. Marshall Shepherd, director of the University of Georgia's Atmospheric Sciences Program and a full professor in the Department of Geography, the 30-minute program provides an excellent overview of our unique organization.
CFP: FLASH partners with an impressive group of public, private, and academic organizations. Can you talk about some of them?
LCH: The FLASH partnership is made up of more than 120 individuals, companies, and organizations across public, private, and nonprofit sectors that share our mission to make America a more disaster-resilient nation. Together, we work to promote awareness and behavior change through education programs targeting kindergarten to postdoctoral studies. We also conduct creative public outreach campaigns, such as the recently completed edutainment project StormStruck: A Tale of Two Homes® at Walt Disney World's Epcot. We have continual public dialogue with leaders.
Our organization is possible through our partners' contributions of board service, expertise, financial resources, and relationships.
Recent initiatives include collaboration with FEMA to create and advance QuakeSmart, an earthquake resilience program for businesses and organizations that has reached more than 450 top U.S. companies and their employees. In May, FLASH presented the quadrennial 2016 National Earthquake Conference (NEC), which brought together the globe's leading scientists and practitioners and garnered worldwide attention. NEC news coverage included the Los Angeles Times, BBC, Time magazine, and many other outlets. As a result, ten days after the conference, California Governor Jerry Brown provided a $10 million investment into earthquake early-warning research and development. He cited NEC as the motivator.
FLASH and FEMA's Private Sector Division has created a suite of new ready-business workshops and toolkits focused on inland flooding, high winds, hurricanes, and power outages. The resources are modeled after QuakeSmart, and we'll continue to offer them digitally and through in-person workshops.
We've also worked with NOAA and the National Weather Service since 1998, creating the well-known "Turn Around, Don't Drown!" life safety effort and a new national hurricane resilience initiative entitled #HurricaneStrong.
In Texas, FLASH, FEMA, and State Farm created and convened the Texas State Collaborative (TSC) to advance the cause of building codes, especially in counties where residential building codes are not in place. ISO has been an essential partner in the success of TSC by providing critical local building code data and information.
CFP: FLASH advocates for the adoption of building codes at the state and local level. What are the biggest obstacles communities face to the adoption and rigorous enforcement of resilient building codes?
LCH: While we believe that leadership awareness of the value of model building codes has increased during the past decade, we remain deeply concerned by some of the trends at the state and local level. Disaster-exposed states like North Carolina have decided to skip the typical three-year code cycle, choosing instead to update every six years. South Carolina has chosen to ignore the American Society of Civil Engineers science-derived maps of wind-borne debris and instead created its own. And while Memphis/Shelby County, Tennessee, finally updated its out-of-date codes, it severely diluted the residential seismic provisions immediately after doing so.
Those adverse actions point to a consistent challenge at the state and local level. Leadership often fails to understand and appreciate the critical importance of a strong and effective building code system as the foundation for disaster resilience. Because of this, we dedicate a significant and growing portion of our analysis, time, and program efforts to help elected and appointed officials appreciate the value of codes. We do this through commentary papers, cost-benefit analyses, information, and other insight that supports building codes as a policy priority.
CFP: How does FLASH help community governments recognize the potential natural hazards they face and how they can better mitigate against natural disasters?
LCH: This year, we created a new effort to advance our dialogue on building codes with elected and appointed officials. The program is called DisasterSmart and includes both written policy commentary and special events in key cities and communities where building codes are falling behind. This program formalizes much of our informal efforts during the past decade.
CFP: As firefighting community leaders, what can CFP News readers do in their communities to advocate for the adoption and enforcement of resilient building codes?
LCH: We've partnered with the firefighting community in the past to promote smoke alarms and other protective devices. We've created wildfire mitigation programs, including training and workshops for The Home Depot to use throughout the nation. We're proud to work with this important leadership community and welcome its engagement in DisasterSmart to help share the message that "Building Codes Save Lives."
On May 1, 2017, we'll join forces with the International Code Council and many of our other partners in Washington, D.C., to launch the 2017 Building Safety Month. We want the firefighting community to join us there and across the nation with events that raise awareness with city, county, and town leaders. We want constituents to understand that investment in building codes and building officials is a top priority for safe families, strong homes, and resilient communities.
CFP: Do the efforts from FLASH have an impact on structural stability and firefighting efforts?
LCH: Yes. Two areas of focus in particular come to mind. First, we focus on wildfire. We target this hazard and work to spread understanding that fire needs air, heat, and fuel. The only element we can control is fuel, so we've developed the mantra #NoFuelNoFire.
Another key focus is in the realm of cascading disasters, such as fires following earthquakes, storms, and so forth. Through FEMA, we have a program in California with the Los Angeles County Fire Department and the Hayward Fire Department where we team up to deliver QuakeSmart inspections for small businesses during annual fire marshal inspections. The project aligns us directly with fire departments, and we're looking to expand it in the future because it's an excellent, mutually beneficial collaboration.
CFP: The FLASH #HurricaneStrong movement is really gaining momentum. Can you tell us about the program?
LCH: This year, we joined forces with NOAA and FEMA to create #HurricaneStrong as a national hurricane resilience initiative to save lives and homes through collaboration with leading organizations in the disaster safety movement. Essential partners in this effort are National Hurricane Center Director Dr. Rick Knabb, our private sector partners such as USAA and The Home Depot, and our leadership partner Jim Cantore and the entire team at The Weather Channel.
We created #HurricaneStrong because public awareness about hurricane readiness was declining due to fewer land-falling Atlantic storms. We'll continue #HurricaneStrong because this year's storms revealed that we still have a lot to do to help Americans get and remain ready for these deadly occurrences. Campaign elements include events such as the NOAA Hurricane Awareness Tour, targeted leadership messaging through the presidentially declared National Hurricane Preparedness Week, high-energy social media outreach, business summits, digital information, home improvement store workshops, news media outreach, school lesson plans, and a social media campaign featuring the now official #HurricaneStrong "pose."
In this first year, #HurricaneStrong garnered widespread success with national television programming, national public service announcements, 695 Home Depot workshops, 15,000 tweets, 4,400 contributors on Twitter, and an audience reach exceeding 22.5 million.
CFP: What can you tell us about what FLASH will be doing in 2017?
LCH: In 2017, we'll continue all of the programs described above and will host our 2017 National Disaster Resilience Conference in October in Atlanta. We keep a busy agenda, but we succeed because our partners are on board and engaged. Collaboration is the key at FLASH. We'd be delighted to work with any of your readers who share our passion for strengthening homes and safeguarding families.