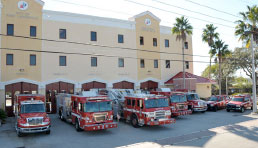 For 35 years, Firehouse magazine has published an annual national survey of fire department responses. And for years, Fort Lauderdale (Florida) Fire Rescue has been in the top ranks of the survey, with busy stations, engines, ladders, and special response companies. For 2015, Fort Lauderdale Fire Station 2 was recognized by Firehouse magazine as the "busiest station," with 33,270 responses providing services to the city and its residents, businesses, and visitors.
The Fort Lauderdale Fire Department was established on June 7, 1912, after a fire destroyed a major portion of the city's downtown. The department has grown from a few volunteer firefighters with a hand-drawn, hand-operated pump and chemical extinguisher mounted on carriage wheels to a fully paid department with 11 stations, 40 apparatus, and more than 400 personnel—who respond to almost 54,400 calls for service annually.
Fort Lauderdale Fire Rescue is an internationally accredited agency by the Center for Public Safety Excellence and an ISO Class 1 department. It provides fire suppression services including marine and aircraft firefighting, emergency paramedic ambulance services, community risk reduction through public safety education and fire prevention services, technical rescue, hazardous material response, marine rescue such as lifeguard services, and urban search and rescue services as part of FEMA (Federal Emergency Management Agency) Florida Task Force 2.
Fort Lauderdale has grown to more than 180,000 full-time residents, and its population increases significantly during the winter months. The city is in the center of the Miami–Palm Beach metropolitan area, where more than 6 million people make it the eighth most populated metro area in the nation.
That growth has created the demand for services that Fort Lauderdale Fire Rescue is experiencing. Station 2 consists of two engine companies (EN-2, EN-8), Tower Ladder 2, three rescue/ambulances (RE-2, RE-8, RE-202), a battalion chief (BC-2), and a division chief (DC-2). Together, those companies produced 33,270 unit responses during 2015.
Fort Lauderdale Fire Rescue Station 2, 2015 Busiest Station—33,270 Runs
| Unit | Responses |
| --- | --- |
| Engine 2 | 6,639 |
| Engine 8 | 6,712 |
| Ladder 2 | 3,870 |
| Rescue 2 | 5,865 |
| Rescue 8 | 5,894 |
| Rescue 202 | 970 |
| Battalion 2 | 2,552 |
| Division 2 | 768 |
ISO Community Hazard Mitigation and CFP News congratulate Fort Lauderdale Fire Rescue for achieving the recognition it deserves—and for all the service it provides to its community.