Anaheim Fire & Rescue (AFR) has earned a very rare status. First, in March 2014, AFR received accreditation from the Commission on Fire Accreditation International (CFAI), a distinction less than 1 percent of 30,000 fire agencies internationally have received. Next, ISO's Public Protection Classification (PPC®) program designated AFR's fire district a Class 1, a rank only 287 cities nationally (30 in California) have earned. Even more noteworthy, only 46 fire service departments nationally have achieved both prestigious recognitions.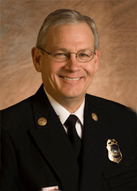 Randy R. Bruegman, a fire chief for 25 years, has led AFR and its 276 members for the past six years. It was during his tenure that the department earned that preeminent status. In addition, with his team, he developed AFR's first community-based Strategic Plan and Standards of Cover, which will continue to serve as the department's road map for the next five years.
Chief Bruegman is a noted author and lecturer on leadership and change management in fire service delivery. He served as chairman of CFAI from 1997 to 2000, president of the International Association of Fire Chiefs (IAFC) from 2002 to 2003, and president of the Board of Directors of the Center for Public Safety Excellence (CPSE) from 2004 to 2017. Chief Bruegman was a principal member of the National Fire Protection Association (NFPA) 1710 Technical Committee on the Standard for the Organization and Deployment of Fire Suppression Operations, Emergency Medical Operations, and Special Operations to the Public by Career Fire Departments from 2009 to 2017. A Fellow of the Institution of Fire Engineers and an internationally designated Chief Fire Officer, he is a certified Fire Chief through the California State Fire Marshal's office. He holds an associate's degree in fire science, a bachelor's degree in business, and a master's degree in management.
With such a distinguished background and list of achievements, his knowledge and experience of the fire service and building a better community fire protection program is invaluable. Community Fire Protection News (CFP) asked Chief Bruegman to share some of his insights.
CFP: Anaheim is an accredited fire and rescue department as well as an ISO Class 1 community. What are the key factors other departments must understand to accomplish both distinctions?
Chief Bruegman: There are several areas where the models overlap and support each other through both processes. We've found the work we did to prepare for our ISO evaluation very helpful when pursuing our self-assessment, a critical component of CFAI accreditation. Currently, we have an ISO benchmarking survey completed through ISO and ESCI (Emergency Services Consulting International), and several of the data requests that we received we already had available due to our work on accreditation. When you go through both, you get an in-depth review and assessment of your organization.
CFP: Being a data-driven organization, what programs and initiatives have you developed based on what you learned through data analysis?
Bruegman: There have been several. We've revamped a number of our dispatch processes to immediately dispatch at least one unit initially after the type of call is known, which saves about 35 seconds for the first unit. We also went to a different dispatching protocol process because the previous version was causing significant delays in alarm processing time. We instituted several software upgrades to track training better and to dashboard many of the elements of performance for the department. We're researching how to obtain more accurate turnout times using technology. For example, we know that in the fire service, a common practice is to hit enroute before leaving the station, which skews the data element for travel time. That's critical when determining where to locate or relocate stations to serve the community better. We try to review all segments of what we do against what occurs in the field and look at all our department activities to find more efficient and effective ways to improve our services.
CFP: What unique challenges does the City of Anaheim present to providing a safe community?

Bruegman: Anaheim is a unique city with two professional sports team, a convention center that holds up to 120,000 visitors, and, of course, Disneyland. On any given day, we can almost double our population of 360,000 people. We also have five major highways that dissect the city, with more than 1.2 million vehicles moving through Anaheim daily. From a response standpoint, we must be prepared for everyday incidents, mass causalities on the highway, and even potential terrorist events. Our paramedics provide services to over 200 events a year and provide overhead command. They control many large annual events. Our Community Risk Reduction division is challenged to keep pace with construction that's always occurring, maintain annual inspection requirements, and plan-check many one-of-a-kind structures in the city. It's an exciting city to work in, and the pace is fast—and we do it with a lean staff of 276 sworn and non-sworn positions.
CFP: What challenges do you think emergency services will need to address in the future?
Bruegman: In the world today, technology advancements constantly occur, and the explosion of usable data and quality analytics will show us how to provide better service. Both of those factors will assuredly drive an evolution of the fire service and change what it will look like in the next 20 years. From my vantage point, the big challenge will be the ability of the fire service to adapt more quickly, because it's often slow to change. Couple that with the shift happening in emergency medical services (EMS), and the landscape of how departments are organized and resources deployed may be much different for many departments in the future.
CFP: What is AFR doing to address the known risk of cancer in the fire service?
Bruegman: Like most organizations today, we're providing physicals and two sets of personal protective equipment (PPE) gear, so that when soiled, the gear can be washed. We're encouraging members to get over the macho image of the soot-covered PPE, as we know now it's a killer of firefighters.
CFP: How do you see your department evolving in the future?
Bruegman: I'm hopeful that we'll get our staffing levels back to where they were prior to the recession in 2009. We need to complete the build out of our capital improvement plan (CIP) to provide the needed facilities to maintain an acceptable level of service. I foresee an expanded role in our mobile integrated healthcare (MIH), building on the success we've seen with our nurse practitioner, who we deploy in the field 40 hours per week. If the fire service does not embrace MIH and make it part of its overall deployment model, I believe we'll lose valuable resources in the future.
CFP: What has been the proudest moment of your career?

Bruegman: The proudest moments in my career have been when one of my chief officers goes on to become fire chief of their own department or takes an expanded role in the department that challenges their skill set. Ultimately, that will make them a better chief officer. As leaders, part of our role is to take others where they would not have gone themselves. When you see that happen, it's a very proud moment.
CFP:What advice would you give to a new fire chief?
Bruegman: As I enter my 27th year as a fire chief, I've seen significant changes in our profession, from the advancement of technology to data utilization, research, health and wellness, and the level of professionalism in our industry. I predict the changes so far will pale in comparison to what fire chiefs will experience in the future. My advice would be to have a good five-year strategic plan, but also envision what your organization will look like ten years into the future. That will help position your organization and lead you to personal success in the future. The role of fire chief, while it has changed dramatically since I began, is a position in which you can make a difference for your community and those whom you lead. When you can say you've done that, there's nothing better!