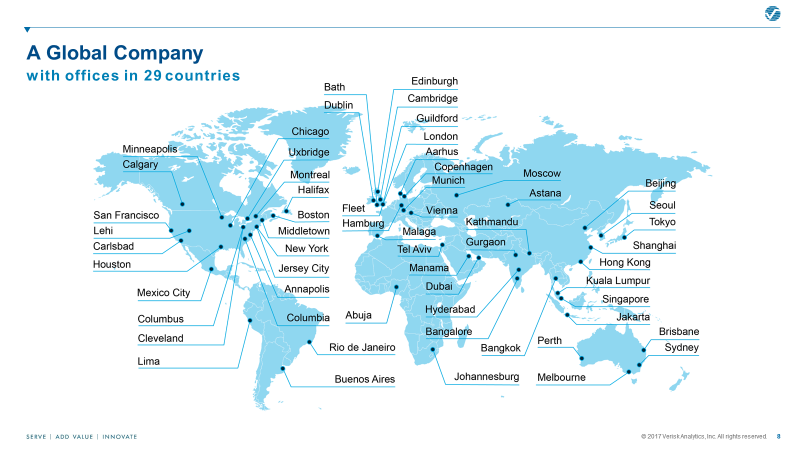 The fire service has long worked with ISO Community Hazard Mitigation—and with our Public Protection Classification (PPC®) and Building Code Effectiveness Grading Schedule (BCEGS®) programs. But ISO is part of a larger company called Verisk, a leading data analytics provider to customers in insurance, natural resources, and financial services. We've been serving our customers for more than 45 years and operate in 29 countries. Along with Verisk and ISO, our industry-leading brands include Xactware, AIR Worldwide, Argus, and Wood Mackenzie. In addition, we have a powerful resource for aerial imagery provided by Geomni, a Verisk business.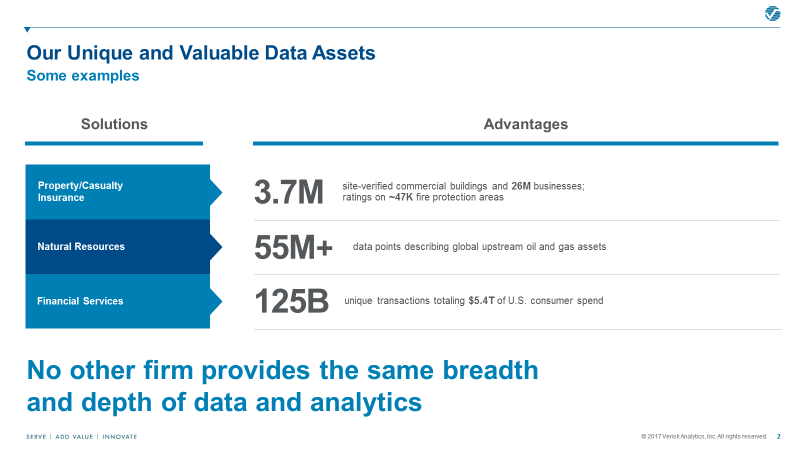 Having Verisk behind us brings tremendous overall resources to ISO services, and that benefits our work with mitigation, fire departments, building code departments, communities, and the public. Verisk's experience, databases, tools, and services cover everything from catastrophe management to building code enforcement, energy programs, cyber risk, credit markets, and more. In fact, those hazardous chemical data sheets fire chiefs hang on their walls are produced by Verisk 3E.
One Verisk
Verisk's vision is to be the world's most effective and responsible data analytics company to help support our customers' most strategic opportunities. But our goals go beyond that, as embodied by our "One Verisk" philosophy. Verisk Chief Executive Officer Scott Stephenson explains that One Verisk means that our brands and businesses work together with a common purpose to serve not just our customers but communities and residents too. We give back to society and do meaningful work that helps protect people around the world. No matter which Verisk brand you work with, you get the resources and support of a single, powerful organization that works together to meet your needs.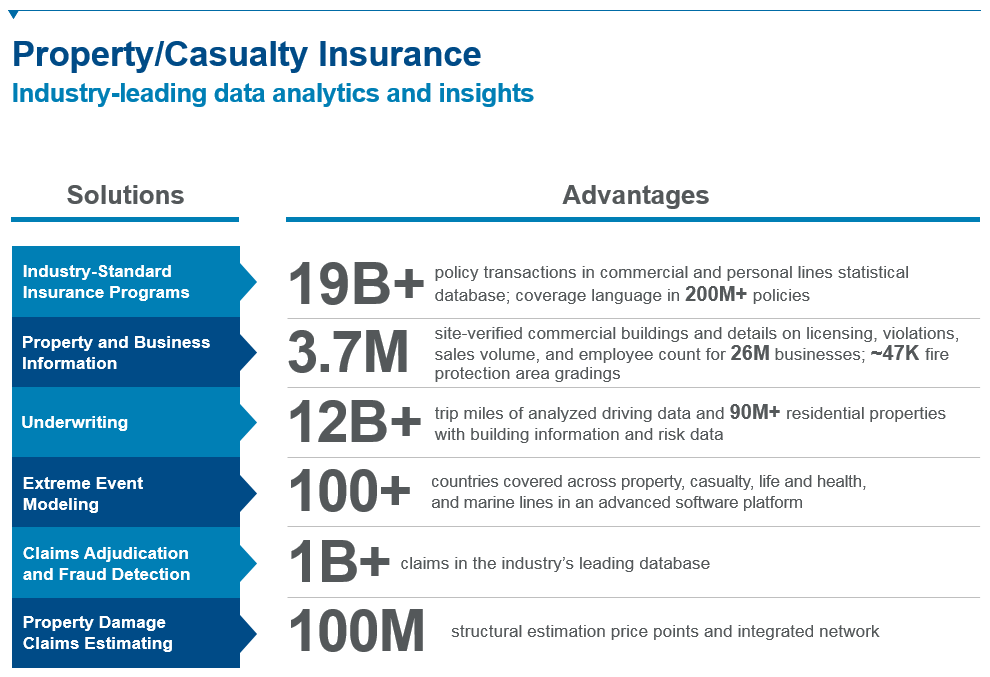 Under the main Verisk brand, there are many products and services for insurers that also enhance our work with the fire service and building code industry. One primary area of our enterprise deals directly with the property/casualty insurance market, with tools and products that help insurers set appropriate rates for covering homes, commercial buildings, automobiles, commercial auto fleets, general liability needs, and other lines. Such coverages are directly related to protecting properties and residents in communities. As fire chiefs know, a better PPC score can result in lower rates for residents and businessowners in a fire district. A better building code score may do the same in regard to community code enforcement.
As you will see in descriptions below, Verisk is also active in the natural resources and financial services markets. While not directly related to the fire service, the experience, data, and analytics we derive from those markets also factor into our skill in measuring fire protection needs and in helping fire departments benchmark their capabilities against similar fire services. That's important for budgeting and assessing what requirements departments may have to protect their communities effectively.
Many of our insurer-facing products and services directly affect our mitigation audience too. One prime example is LOCATION® FireLine®, which provides data and analytics on wildfire risk. During an active fire, firefighters can quickly determine the level of exposure at individual property locations using FireLine information on vegetative fuels, slope, and road access. Such information can be useful in firefighting activities. Other LOCATION tools help mitigate the risks or predict the results of catastrophes, including earthquakes, floods, hurricanes, and fires. LOCATION provides PPC and BCEGS reports to insurers to use to set proper rates for policies in communities.
In addition, our ISO field analysts work and coordinate with their LOCATION colleagues for a complete picture of community mitigation. Other Verisk products that interact with community protections include our 360Value® line, which provides reconstruction cost estimates for buildings and homes. We also have a full spectrum of commercial insurance products that help businesses, owners and occupants of buildings, and other entities protect their properties, employees, and customers—all helping to serve communities. These are just a sampling of products and services the Verisk brand brings to help communities, individuals, and businesses.
Xactware
Verisk's Xactware business provides computer software solutions for professionals estimating all phases of building and repair, helping contractors and insurance adjusters do so faster and more accurately. In fact, 22 of the top 25 property insurance companies in the United States and the top 10 Canadian insurers use Xactware property insurance claims tools. Xactware features software solutions for every phase of a building's life, including remodeling, totally replacing a building, determining reconstruction costs, preserving structures, and repairing a home. Intimate knowledge of building construction informs our services to the mitigation community.
AIR Worldwide
AIR Worldwide pioneered the catastrophe modeling industry. The company creates tools that have changed how the industry thinks about risk management and how to make individuals, businesses, and societies more resilient. More than 400 organizations rely on AIR's models, software, and services to manage risk from natural catastrophes, terrorism, cyberattacks, and pandemics. ISO's mitigation experts and field analysts can access AIR's databases and probabilistic models, providing priceless knowledge in understanding events that could affect communities.
Verisk 3E
Verisk 3E has a vision for the future reflected in its tagline: "Intelligent compliance. Sustainable progress. A safer world." Verisk 3E has an accomplished 30-year history of commitment to helping customers improve chemical and workplace safety and strengthen product stewardship. Verisk 3E is the leader in intelligent compliance solutions, expertise, content, and award-winning products that customers need to solve compliance challenges. Fire chiefs are familiar with 3E's chemical hazard sheets, and that's just one way Verisk 3E contributes to our mitigation partners' successes.

Argus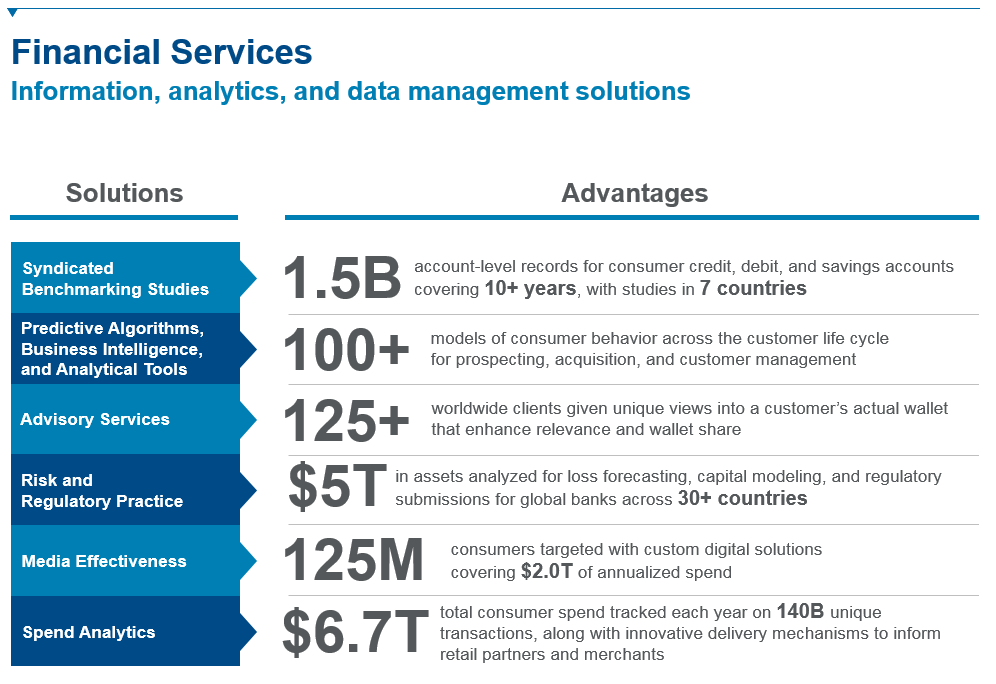 Argus is a leading provider of information services for financial institutions. The company helps customers understand, analyze, and address some of the most important challenges facing the financial services industry. That includes regulatory compliance, optimization of products and services, credit and fraud risks, and payment system strategies. Argus offers financial institution benchmarking studies, predictive financial algorithms, business intelligence, and analytical tools. The financial expertise that Argus provides Verisk helps us improve our ability to understand the financial needs and stresses of municipalities and fire department budgeting.
Wood Mackenzie and Verisk Maplecroft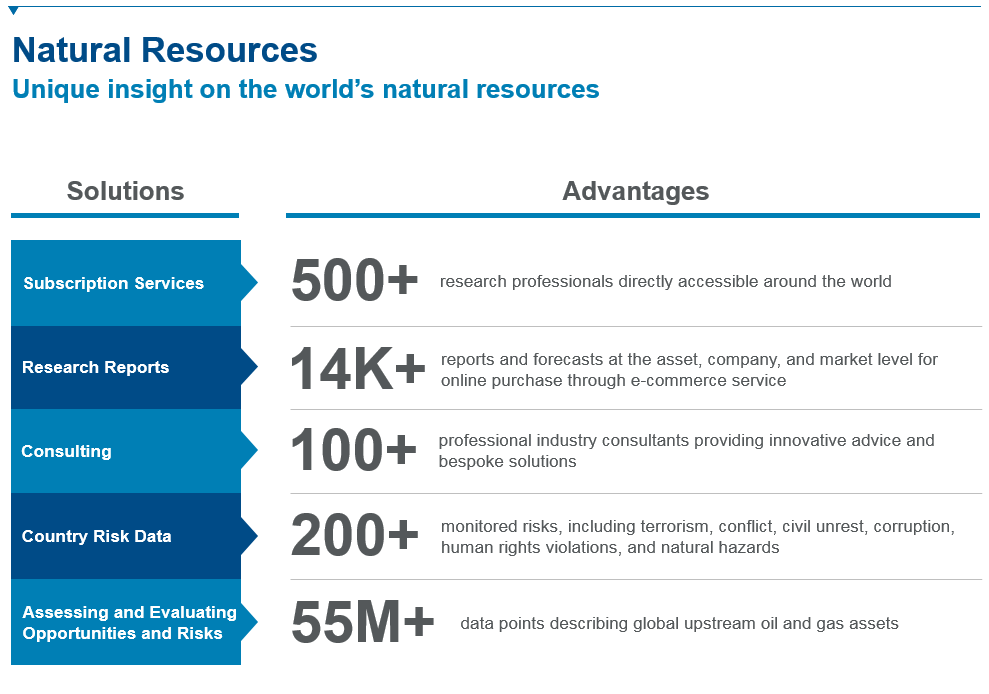 While not directly related to the mitigation service, Wood Mackenzie and Verisk Maplecroft are global leaders in the energy, metals, and mining markets. Together, they offer insights and assets to identify and reduce risk exposures in those markets. Wood Mackenzie specializes in providing commercial intelligence, objective analysis, and advice on assets, companies, and markets for companies around the world. Verisk Maplecroft helps energy and mining firms navigate the full spectrum of aboveground risks through a portfolio of global risk analytics. These Verisk businesses add a wealth of overall knowledge and experience we can bring to the fire service, especially when confronted with risks involving such exposures.
It's easy to see how the experiences and expertise of the Verisk family of businesses make us a better partner for the fire service community. And the Verisk family continues to grow as we make strategic acquisitions, partnerships, and expansions around the world.