Changes in the built environment and the contents of structures are creating new challenges on the front lines of firefighting. That's the reality that firefighters and emergency services personnel are facing. It's a story that municipal officials, residents, and insurers need to know and understand to help build safer communities and reduce fire loss.
Knowledge and understanding about trends and current challenges are critical to better prepare for and support fire prevention and firefighting efforts. Such details will inform appropriate decisions on budgets, safety preparations, resource allocations, and more. Insurers need this information to cover insureds and properties better and improve how they assess a community's adaptation to evolving challenges in fire protection.
Today's fire environment
The chart gives a view of key changes in the fire environment over recent years: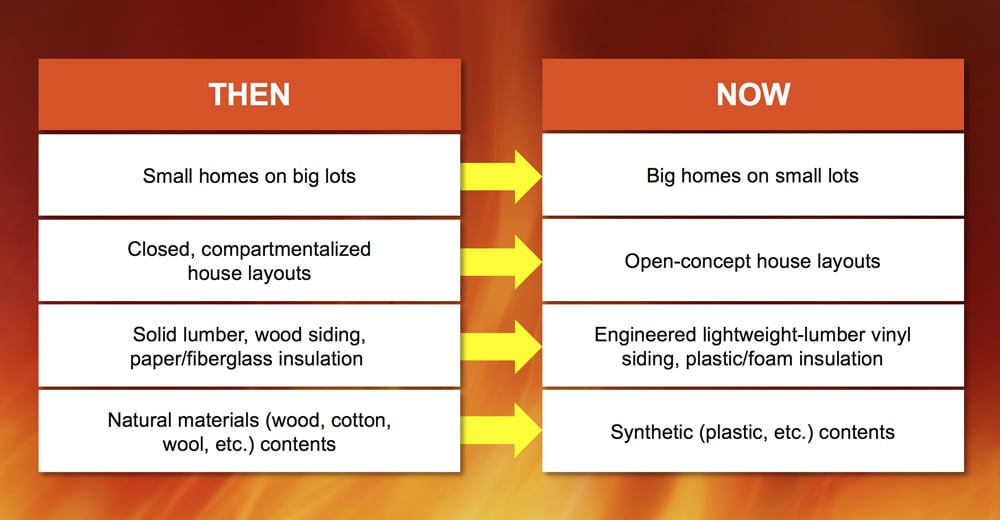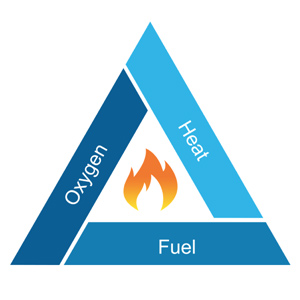 As firefighters know, the approach to firefighting is based on the fire triangle: the chemical reaction between heat, fuel, and oxygen. The traditional method of taking away one side of the fire triangle to extinguish the fire is still valid: firefighters need to reduce heat, remove fuel, or remove oxygen. However, over the past 30 years or so, the variability, complexity, and interaction of the sides of the fire triangle have changed significantly; and those trends call for new ways of thinking about firefighting that residents, officials, and insurers should know about.
Small homes on big lots vs. big homes on small lots: Data from the U.S. Census Bureau Survey of Construction shows the average square footage of new homes increased roughly 60 percent from less than 1,700 square feet in 1973 to around 2,700 square feet in 2015. From 1992 to 2015, the average lot size for a single-family home decreased from 10,000 to 8,600 square feet, with denser concentrations in some areas where land is especially expensive. Less space between houses creates a greater danger of fire jumping from one structure to another, increasing the likelihood of fire spreading in a neighborhood. That's an additional risk that communities need to plan for and insurers to consider when underwriting and pricing policies.
Compartmentalized house layouts vs. open-concept designs: Modern homes tend to have features such as taller ceilings, two-story foyers, and great rooms. Overall room volumes are larger, providing more air to feed fires. Popular open-concept designs mean less compartmentation, and that allows fire and smoke to spread more quickly. However, while average home size has increased, firefighting resources haven't kept pace—or have even been significantly reduced—in many areas of the United States. For example, a recent report from the State of Pennsylvania showed that the number of volunteer firefighters in the state dropped from more than 300,000 in the 1970s to approximately 38,000 in 2018.
Solid vs. lightweight construction: Structural members in many modern homes have much less mass, and critical elements have smaller dimensions. In many cases, they're held together by light metal connectors or include temperature-sensitive, glue-laminated beams. Findings from the National Institute of Standards and Technology (NIST) and UL have shown that in a fire, in some cases, lightweight structural elements may fail in one-third the time of their more traditional counterparts. Newer insulation and siding materials also change the hazards, and there's more potential for concealed fires. Together, these factors often dictate less aggressive firefighting tactics, such as keeping personnel off roofs to ensure their safety.
Natural vs. synthetic materials in home contents: Household items that once contained natural materials such as paper, wood, and cotton are often now synthetic or plastic, which are oil- or hydrocarbon-based. As a result, fires develop faster and burn much hotter. In a burning room, temperatures at the ceiling that may have been 1,000°F to 1,200°F in the past have frequently doubled.
Fire behavior is changing
Traditional fire behavior indicated a fire would start and then grow from the incipient stage until it was fully developed. Not enough oxygen was generally available to mix with the fuel throughout the combustion process. As the fuel that fed the fire was consumed, the fire would diminish in intensity. These fires were typically characterized as "fuel-limited." However, groundbreaking research and experimentation led by NIST, UL, and others over the last two decades have shown that modern fire behavior can be quite different than in the past.
The change in fire behavior is due in large part to the much higher fire load resulting from more synthetics in construction materials and contents as well as changes in the geometry and layout of modern structures. Newer homes are built to be energy-efficient and are more tightly sealed; as a result, they don't "breathe" as well as older homes did. As the modern fire grows from its incipient stage, the more combustible synthetic fuel load causes temperatures to rise faster and higher than the traditional fire. The higher fuel load has more of an appetite for oxygen, and this increased demand coupled with the energy-efficiency of the modern structure can cause the fire to become "ventilation-limited."
A ventilation-limited fire is a much more unstable situation, where the intensity of the fire decreases with a resulting temperature decrease due to the lack of oxygen. The fire can become dormant, but the heat and fuel portions of the fire triangle can still be present in a major way—just waiting for the introduction of the third portion of the fire triangle: oxygen. When oxygen is introduced, as when the fire department opens a door or ventilates a window, the oxygen can mix with the heated fuel resulting in rapid fire growth. This can lead quickly to a condition called flashover, a rapid transition to a fully developed fire. In cases where the fire has available oxygen and does not become ventilation-limited, the presence of the modern synthetic fuel load will cause the fire to grow faster, burn hotter, and lead to flashover much quicker than a fire involving natural materials.
New approaches to firefighting are needed
With the changes in the environment that firefighters face, there's a trend toward more catastrophic losses, larger fires on arrival, and more fires growing out of control. Experience in the field, supported by research, has shown firefighting methods used in the past are not always effective. What's needed are approaches different from traditional firefighting doctrine in terms of strategies and tactics. The new approaches require reconsidering staffing levels, training, apparatus deployment, nature of the equipment, community risk reduction programs, adequate water supplies, and effective alert systems.
Some traditional methods that have been revisited include the hesitancy to employ an exterior fire hose attack since the belief was that exterior fire attack "pushes" fire and will hurt victims. In the past, exterior fire attack was primarily used for "defensive" operations when the fire was beyond the control of interior handlines, no civilian lives were in jeopardy, and/or compromised structural integrity made it unsafe for firefighters to enter. The purpose of the exterior fire attack in those cases was to isolate a fire and keep it from spreading to adjacent buildings. Research has shown, however, that employing external hose streams as a prelude to an interior fire attack can improve conditions within the structure for both civilian victims and firefighting teams entering the building, leading to more positive outcomes.
Another belief was that venting the building would lead to cooling by releasing hot gases trapped in the building. Research has shown, particularly in the case of ventilation-limited fires, that this is not true. It's critical that ventilation by the fire department is performed at the right time, in the right place, and closely coordinated with the application of water on the fire. Improper ventilation without coordinated hose streams can have catastrophic consequences.
Recognition of the new research is driving the fire service to change traditional strategies and tactics. Fire departments that have adapted to these changes are better positioned to achieve more favorable outcomes and protect their communities better.
For more information and help in reaching out to your communities, please contact ISO Community Hazard Mitigation or see the many resources and firefighter's toolkit on our website.