During the week of August 12, 2013, ISO and leaders from the fire service convened in Chicago, Illinois, for the International Association of Fire Chiefs (IAFC) Fire-Rescue International (FRI) conference. The event, highly attended by fire chiefs from across the United States and around the world, offered an opportunity for insurers and ISO to meet and discuss the importance of maintaining an open dialogue between the fire service and insurers.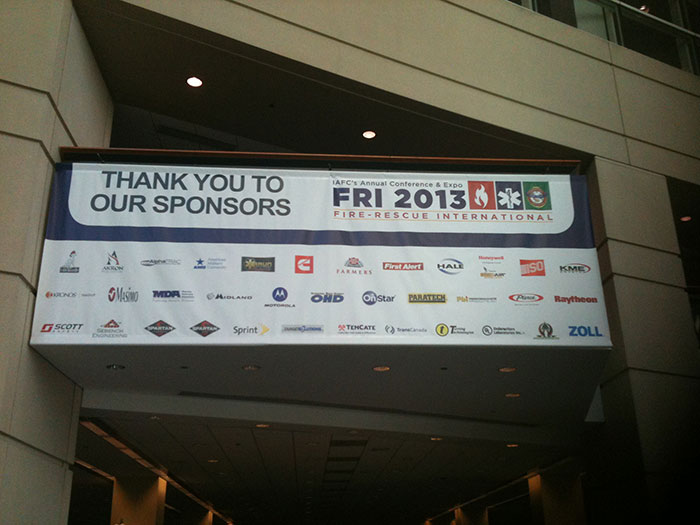 ISO was proud to be a sponsor at IAFC's Annual Conference and Expo Fire-Rescue International 2013.
In addition to hosting a well-attended booth, Skip Gibson, manager, ISO Community Hazard Mitigation, presented an update on ISO's new Fire Suppression Rating Schedule (FSRS) to the IAFC board of directors.
After his presentation to the IAFC executive board of directors, Skip Gibson (left), manager, ISO Community Hazard Mitigation, met with Hank Clemmensen, past president (2012–2013), IAFC.
Butch Cobb, national director, ISO Community Hazard Mitigation, also presented an educational class that described the tools and resources ISO provides to the fire service and communities. Attendees learned about:
ISO's Public Protection Classification (PPC™) program and how communities can improve their PPC grade. Cobb discussed the importance of enhanced fire training and keeping good records, increased yearly preplanning, improved testing for pumps and ladders, automatic aid, and developing an improvement plan using our Grading Summary Report.
Cobb discussed that the schedule continues to evaluate the three major categories of fire suppression — fire department, emergency communications, and water supply — but now includes a new Community Risk Reduction section that recognizes community efforts to reduce losses through fire prevention, public fire safety education, and fire investigation.
Kevin Kuntz represents insurance industry as a CFAI Commissioner
Another highlight of the week was the Commission on Fire Accreditation International (CFAI) meeting. CFAI's 11-member commission represents a cross section of the fire service industry, including fire departments, city and county management, code councils, the U.S. Department of Defense, and the International Association of Fire Fighters. Our very own Kevin Kuntz, assistant vice president of Risk Engineering and Technical Training, Verisk Insurance Solutions – Commercial Property, is a commissioner representing the insurance industry.
The commission meets in the spring and during the fall IAFC-FRI conference to review all the agencies applying for accredited status under its Center for Public Safety Excellence (CPSE) Accreditation Program. CPSE helps public safety agencies around the world improve the services they provide their communities. The organization promotes continual quality improvement of fire and emergency service agencies that serve communities worldwide by providing training and career resource information to their peer review volunteers. CPSE supports and encourages agencies and personnel to meet international performance standards through various programs. Its accreditation program reflects a comprehensive self-assessment and evaluation model that helps fire and emergency service organizations examine their service levels and performance. A total of 29 fire departments received accredited or reaccredited agency status during the week.