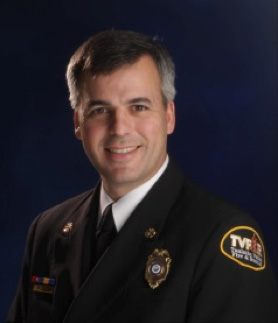 By all accounts, the fire service is in the midst of a revolution driven by many factors, such as better risk reduction programs, new technology, changing fire risks, and health concerns. Fire departments must adapt to these changes to fulfill their mission of protecting communities. To get his perspective on the future of the fire service, Community Fire Protection News interviewed Fire Chief Michael R. Duyck, EFO, CFO, MIFireE, of Tualatin Valley (Oregon) Fire & Rescue (TVF&R). As both a long-time member of the fire service and leader of a large, combined district serving 390 square miles, his insights are invaluable.
With more than 30 years in the fire service, Chief Duyck has held positions at all operational ranks and in human resources, logistics, and government affairs. His district includes 26 stations that provide fire suppression, emergency medical, specialty rescue, fire prevention, and preparedness services to approximately 500,000 citizens in eleven cities and unincorporated communities in four counties. Chief Duyck oversees more than 540 career operations, prevention, training, administrative and support personnel, and 60 support volunteers. A past president of the International Association of Fire Chiefs (IAFC) Western Division, he currently serves as International Director on the IAFC Board of Directors and Alternate Board Member for the Metropolitan Fire Chiefs Association. He participates in local, state, and national forums on emergency communications, interoperability, innovation, technology, intergovernmental affairs, government efficiency, and economic development.
Community Fire Protection News (CFP): TVF&R has a long standing history as data driven. What programs and initiatives have you developed based on data analysis?
Chief Duyck: TVF&R's data and GIS analysts conduct comprehensive retrospective performance analysis and predictive modeling. We use incident data and leverage regional demographic, economic, property/ housing, transportation, land use, and growth forecasting data. That practice prompted us to right size resource management, pinpoint the precise location for physical assets, and select the right equipment. It's no longer effective to build oversized stations at every location or send 25 tons of steel and four firefighters and medics (or paramedics) to every incident.
Subsequent changes to our overall approach included single-person rapid-response car deployment on specific call types and modified work schedules. Dispatch orders and protocols for call triaging were modified to ensure accuracy and the deployment of the right asset package. We adjusted engine specifications for more appropriately sized apparatus, developed alternative station designs, and acquired land for smaller or scalable footprints for future demand.
Our data analysis informed targeted community risk reduction initiatives that significantly reduced call volume for false commercial alarms, public assists, and senior/adult care facilities. We used historic incident data analysis to inform advocacy for county transportation projects to target and prioritize common problem areas. We influenced the selection and installation of traffic calming devices with fewer impediments to rapid emergency apparatus response.
CFP: How do you see your department evolving in the future?
Duyck: TVF&R will leverage existing, evolving, and non-traditional technology to improve emergency response. That includes tapping into intelligent traffic management systems to affect travel time. It could mean receiving alerts from advanced detection technology to know the exact location and type of materials in a structure fire to support the most appropriate resource deployment and effective size up. We plan to expand and optimize our application of GIS technology for real-time system and performance monitoring, pre-incident occupancy familiarization, organizational planning, and analysis functions. For better resource management, we'll explore the benefits of AVL for dispatch based on proximity rather than pre-determined CAD assignments.
To increase firefighter efficacy on scene, we'll refine apparatus design specifications and hose selection for more streamlined fireground management and deployment of suppression assets. Where appropriate, we'll introduce alternate lighter, faster, and less expensive response apparatus.
CFP: What advice would you give to a new Fire Chief?
Duyck: Stay fresh and challenge the norm. Explore best practices, new innovations and technologies, and effective management techniques, including what works in other industries. Get connected and be active in the community, the region, and across the nation. Be a savvy executive. Monitor and, where appropriate, influence the governmental and legislative processes that affect your organization. Ask for input and feedback from citizens and listen closely to what they say. If you operate with blinders on and think you already know best what they want and need, you'll underserve the community. Consider using public attitude research and other forms of direct community engagement to understand their true expectations and tolerance for risk. Determine what information and actions resonate most with their perceived value of your services and how they vote. Our experience in this area has taught us that engagement equals support.